Charm Selection at Coquí el Original
At Coquí el Original® in Old San Juan, we have a variety of Puerto Rico-inspired designs that will serve as life-long mementos. Locally designed by Natalio Barquet, we have seven beautiful collections to discover: Coquí Tree Frog, Sun, Leatherback Sea-Turtle, Salsa and Map Collections.
Our Most Timeless Design - The Coquí Tree Frog Collection
Undoubtedly, the 
Coquí Tree Frog Collection
 is the most popular of our jewelry from Puerto Rico. The Coquí is a 
small tree frog
 endemic to Puerto Rico found all over the island. They get their name because of the distinctive sound they make during the night, "co-ki." While you may find other tree frog species around the world, the coqui is a strong cultural symbol for us Boricuas (another term for someone from Puerto Rico). From the Coquí Collection, you can choose if you prefer a charm style or pendant style coquí. For the first, we offer 2 variations in both sterling silver .925 and 14k gold with diamond eyes. The first is the coquí charm that dangles, which you can choose between a polished or matte finish. The second is called the Reversible Coquí, which is designed in a bead style and has the matte coquí on one side and the polished coquí on the other. We offer all of these variations in the solid 14K gold as well. Notable and the most versatile is the Two-Tone Reversible Coquí Bead. The piece comes with a 14k gold coquí side with diamond eyes and, on the other, a sterling silver .925 coquí. It is perfect because it is like a two-in-one coquí charm. For pendants, we have 3 sizes offered in both the polished and matte finishes. The sizes from smallest to largest are Petite, Mini, and Classic. These coquí pendants are perfect to wear on a thin chain or if you have a link charm bracelet to solder it to. Find these sizes and variations in solid 14K yellow gold with diamond eyes as well.
Taíno Collection
Discover the unique allure of our 
Taíno Collection
. Each pendant brings out the creativity of Puerto Rico's indigenous community, emulating our native tree frog through beautiful petroglyphs. We present two variations for this collection — sterling silver .925 and 14k gold. For a fancier design, we have the Taíno Coquí Frog Pendant with diamond accents. This pendant features genuine diamonds in a pave setting to add to its elegance.
The Sun Collection
The 
Sun Collection
 is simply stunning. While a more universal design, it also serves to symbolize Puerto Rico's year-round beach weather. All sun, be it in silver or in gold, come with genuine diamonds in the center. In the pendant style we have two sizes: the mini and the classic. The third variation is the charm style you can use for a necklace up to 4mm thick or place on a Pandora bracelet.
Flor de Maga Collection
See the gorgeous Flor de Maga in style. Our 
Flor de Maga Collection
 pays homage to the 
country's national flower
 of this name. In this collection, we offer both a pendant and a necklace. The pendant is made of solid sterling silver .925 adorned with diamonds and yellow sapphires. Another beautiful representation of the flower is our rose gold Flor de Maga necklace, which measures 1.0 millimeters thick and 16 inches long. Like our flower pendant, this necklace incorporates striking gemstone embellishments.
The Leatherback Sea-Turtle Collection
The 
Leatherback Sea-Turtle Collection
 also has a range of variations and options. The leatherback, known as "el tinglar," is distinctive because the turtle has 7 longitudinal ridges on its carapace. You may notice this beautiful detail on all our Leatherback Sea-Turtle Designs. We offer the Tinglar in 3 variations: all silver, all gold and two-tone. In all variations, pick between a petite, classic or charm style.
The Puerto Rico Map Collection
The 
Puerto Rico Map Collection
 is shaped in the form of the island and always come with a little diamond over the "i" of Puerto Rico. Another piece you can purchase is the island with the Puerto Rican Flag. There are two options available — the all-sterling silver .925 and the sterling silver with enamel. Additionally, you can find both these designs to wear as a pendant or charm. Apart from the Puerto Rican flag design, we also have a variety of options for the simple yet sophisticated "Puerto Rico" imprint. You can select your preferred material — yellow gold or sterling silver.
The Salsa Collection®
Last but not least is the unique 
Salsa Collection,
 where you can find exquisite pieces of ballroom dancers. Our Salsa Dancer pendants are available in sterling silver and yellow gold. The sterling silver option includes a lovely 18-inch chain. As a final note, all of our charms are compatible with Pandora, Brighton, Chamilia and Troll Beads bracelets.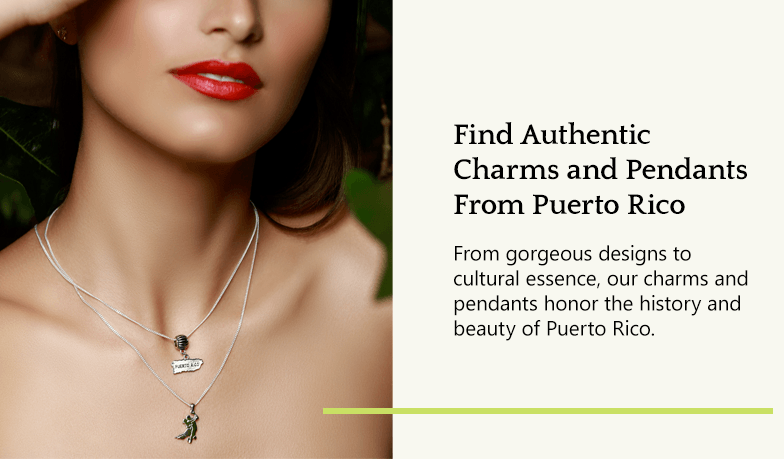 Find Authentic Charms and Pendants From Puerto Rico
Contact Us
From gorgeous designs to cultural essence, our charms and pendants honor the history and beauty of Puerto Rico. The native tree frogs, the La Flor de Maga and salsa dancers — each piece has a deep connection to the country's history. As a family-run jewelry brand, we create high-end heirlooms that transcend time. Browse our collections to find a piece that fits your style and sparks your passion.