"What is it with the frog?" Is a phrase I often hear while working in my jewelry store in Old San Juan. Our coquí tree frog is a motif you will find in jewelry, paintings, sculptures, and varied artisanal works. Yes, there are many tree frogs all around the world, but what makes the coquí so unique and a source of pride for Boricuas? (Another term for Puerto Ricans.) This blog will cover why our cute, little tree frog is much more than a frog, but a cultural symbol in Puerto Rico.
The Coquí is a Singing Frog Native to Puerto Rico
Of course, many types of frogs, tree frogs, amphibians, insects make noises, but the coquí truly makes a sweet sound. Only singing throughout the night, the sound goes "ko-kee" which is why they get their onomatopoeic name, coquí. Mainly because of globalization where species are invading non-native regions, the coquí has been reported to be in places like Hawaii, Florida, and Virgin Islands. While this is the case, the truth is the coquí is originally from Puerto Rico. It has been a native and endemic species for hundreds of years that used to only be found on the island. This is one of the main reasons we have a popular saying "De aquí como el coquí," a phrase that rhymes in Spanish and roughly translates to "We are from here like the coquí is."

The Coquí Has Been a Significant Symbol in Puerto Rico's Culture
Dating back to pre-Columbine times, when the Taino's were the main inhabitants of Puerto Rico and the Caribbean, they were prolific at depicting aspects of their daily life and religion. You can see in the image above some of the ways they drew the coquí frog. The coquí Taíno drawing is still one of the most popular symbols Boricuas love to have as tattoos or in artworks to commemorate Taíno's influence and heritage in our culture.
If you want to visit and see their pictographs or petrographs, they can be found in the following places:
Cueva del Indio, Arecibo
La Piedra Escrita, Jayuya
Río Blanco, Naguabo
Park at Las Piedras, Las Piedras
Caguana Ceremonial Site, Utuado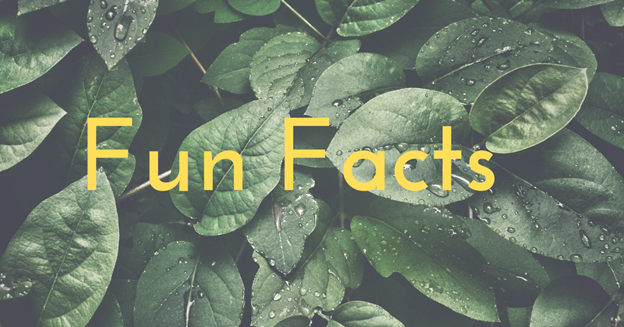 Fun Facts About the Coquí Tree Frog
The coquí is not a swimmer! They do not have web between their toes. Hence, a tree frog! Although they do thrive best when it rains and humid areas.
Different species are found all around the island. Just step outside at night in a very green area and you will hear them sing!
Coquíes do not have a tadpole stage. They go from egg directly to coquí. Lookup a video so you see how teeny tiny frogs pop out from the eggs when born.
Their Greek name is "Eleutherodactylus" meaning "free toes," as mentioned above!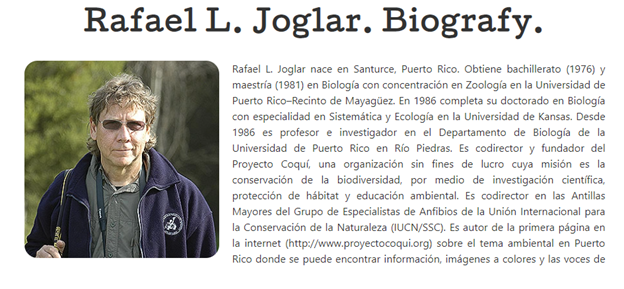 Learning More About the Different Coquí Species
Rafael Joglar is the academic eminence in Biology and Ecology with a specialization in amphibians and reptiles. Therefore, he is the best source to learn everything about the 17 coquí species that currently still exist on the island. Rafael is a fierce advocate and defender of our natural resources and animal species, since many, including species of the coquí, have either gone extinct or are endangered due to deforestation and limited water sources. If you want to learn in depth about many of our coquíes, you can read his catalog and descriptions of the species.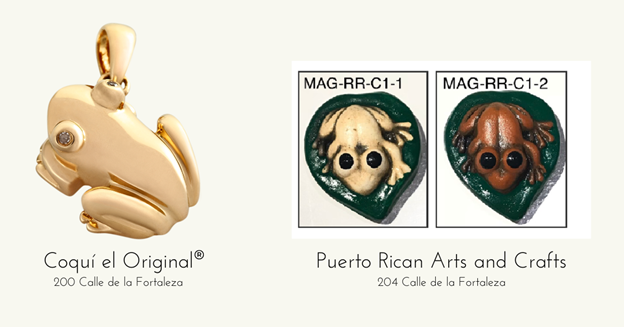 Coquí Jewelry and Art Make a Perfect Remembrance of the Island
If you're ever visiting Puerto Rico, purchasing a local item celebrating our cute tree frog is truly an iconic way to remember your trip to the island. I hope this blog gave you an idea of why we are so obsessed with our cute, little singer. It has been this way for literally centuries! If you're lucky enough, you might just spot one on your trip, although a tough task to achieve indeed.
Salud y Exito
Daniela Barquet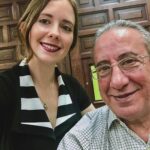 Daniela Barquet is the 4th generation owner of her family's jewelry store located in Old San Juan, Puerto Rico since 1965. The business tradition was started by her great-grandfather, Issac Barquet, in 1920. Daniela graduated from Boston University with a Bachelor's in the History of Art and Architecture and a Minor in Italian Studies. Daniela continues to grow under the mentorship of her father, Natalio Barquet Perez, who is a renowned, certified jeweler in Puerto Rico.