"La Isla del Encanto" (The Island of Enchantment), Puerto Rico, the Caribbean island blessed by Nature. Experience Taíno Indian archeological discoveries, the stories behind the centuries-old Spanish Fortresses, the Tropical Rain Forest with all its wonders, world-class surfing and peaceful coves, its history, its romantic culture, and its people (¡su gente!).
Here are the top 12 places to go to and experience while in Puerto Rico (PR):
1) Viejo San Juan
Viejo San Juan (VSJ) or "Old San Juan" is the historic center in the capital municipality of Puerto Rico named San Juan. As its name indicates, VSJ is one of the oldest cities in the Caribbean. It is a beautiful Spanish-architectural town with enormous historical forts surrounding it from when the Spaniards inhabited the island. To walk around is an adventure of its own. Since it is so quaint you can get anywhere within a 15 min walk! During the day, you can start your walk off at the beginning of "Paseo de la Princesa," a gorgeous fortified rout that leads you to the main historical attraction, El Morro.
The citadel, Castillo San Felipe del Morro, has a huge lawn area perfect for picnics and flying kites. If you're looking for even more history-driven experience, sign up for the Indoor Patio Tour that takes you through multiple historic buildings in VSJ with interior designs to die for. Make sure to also add to your list la Capilla del Cristo (Chapel of Christ) and La Fortaleza (the governor's palace) of places to visit in VSJ.
Another major attraction of Old San Juan is it's Puerto Rican shops. If you're looking for unique and authentic gifts, VSJ is the place to purchase them. For locally-made artisanal items, Puerto Rico Arts and Crafts and Mundo Taíno are the best places. For locally-designed, high-end jewelry in sterling silver .925 and solid 14k gold, Coquí el Original® is a favorite for both locals and travelers. If you're looking for summer clothing like T-shirts and shorts, Playero is a very popular brand with various locations available.
After you're done with shopping, you can have a delicious dinner! For a very high-end experience, Marmalade is the best restaurant in Viejo San Juan. For tasty and typical Puerto Rican dishes, Cayo Caribe is a great option. End your night (or your morning) by going to either La Factoría or La Vergüenza bars to mingle with both locals and tourists. La Factoría is great for mixed drinks and dancing salsa with a live band. La Vergüenza is a more relaxed, outdoor setting with a view to the sea and La Perla, the local neighborhood that boasts colorful houses in Old San Juan.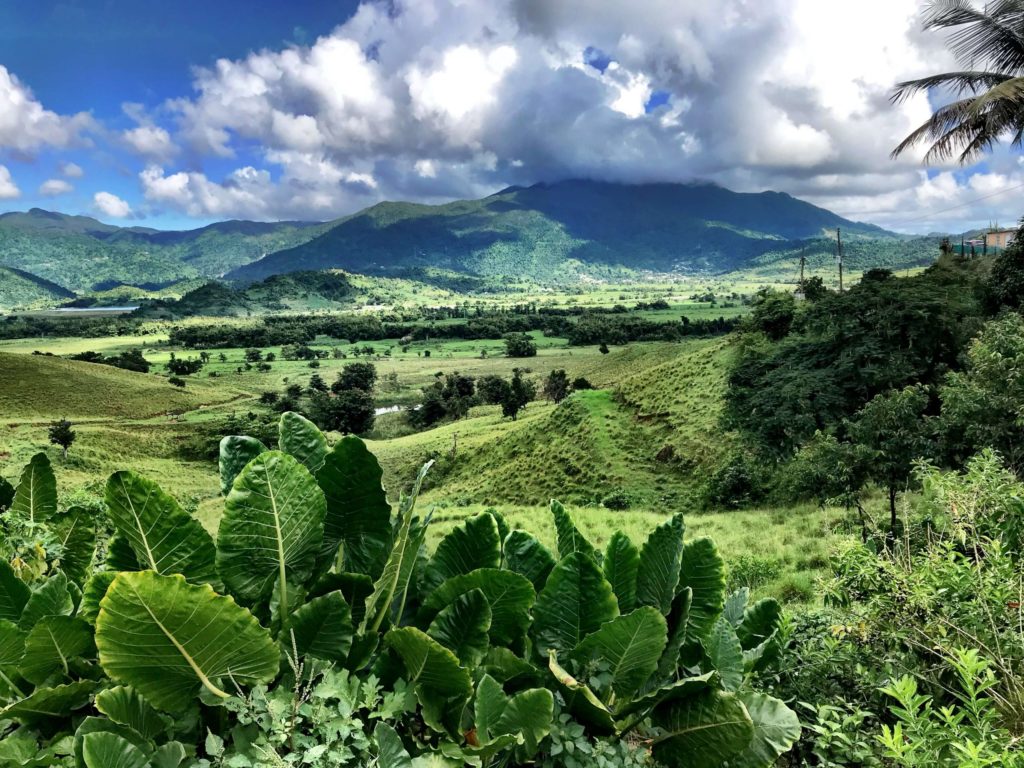 2) El Yunque
Puerto Rico is home to a small, but beautiful rainforest named El Yunque. The rainforest spans different municipalities in the Northeastern part of the Island. It is a perfect spot to hike, swim in rivers, get massaged by cascades, and view amazing tropical vegetation. One of the main attractions of El Yunque is that you get to hear the Puerto Rican coquí tree frog singing. An endemic species to the island, the coquí's melodic sound is a symbol of culture and pride in Puerto Rico. While coquí are present all around the island and sing during the night, for a surround sound experience, El Yunque is the place to be.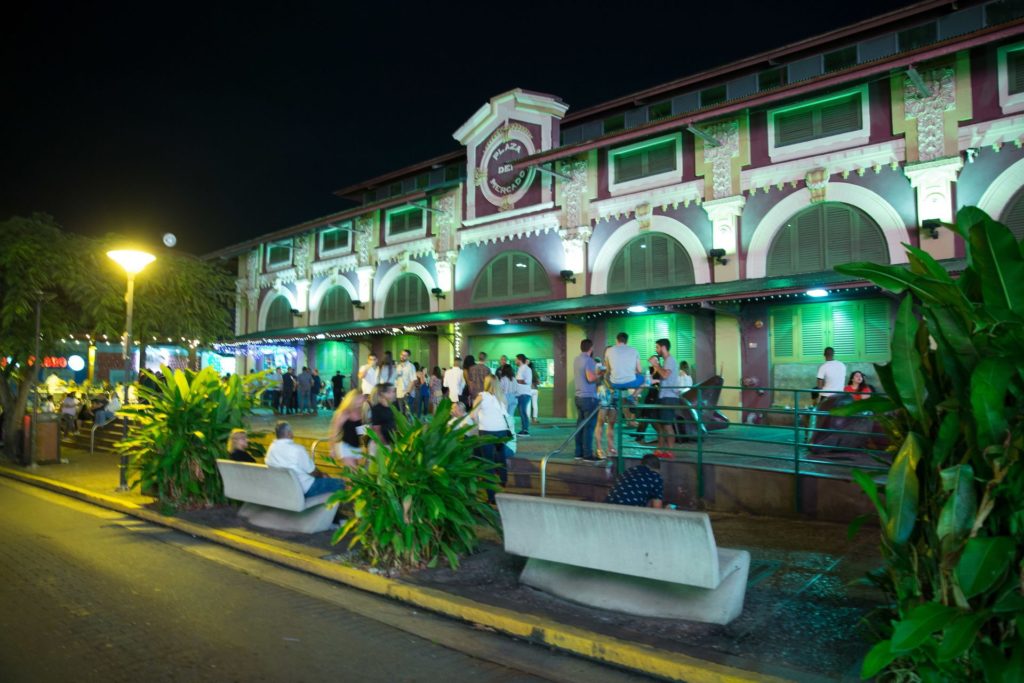 3) La Placita
La Placita located in Santurce, San Juan is a major attraction for both locals and tourists of all ages looking to have great drinks and a fun time. During the day, La Placita has a local market and great places to eat, but the best time to go is at night when a variety of indoor and outdoor bars open up. Notable places are De la Vida, where you can dance salsa to live music on Thursdays and Sundays. El Coco de Luis is great for simple, tropical drinks like whiskey with coconut water, rum with fresh juices like grapefruit, and mojitos. If you like variety, hop around different locations and bars and have fun to different music and ambiances.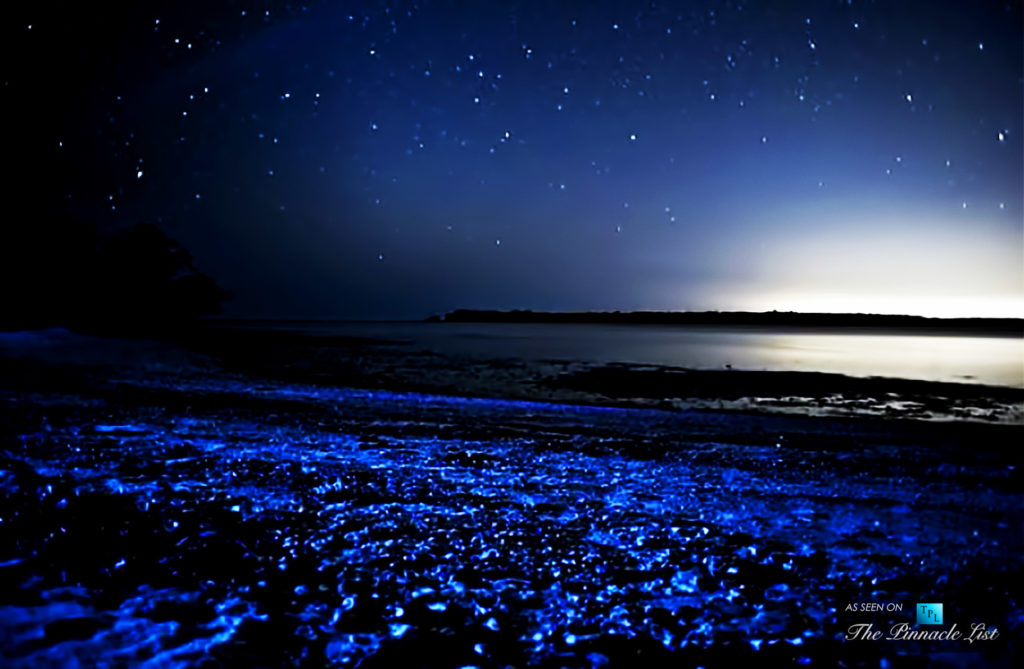 4) Bioluminescent Bays
Did you know, Puerto Rico has three out of the 5 bioluminescent bays in the world? You can find one in La Parguera, another in Fajardo and the most bioluminescent in Vieques. We definitely recommend the last, although it is a bit trickier to get to. Vieques is an island-municipality off the East coast of Puerto Rico. Therefore, you need to arrange a ferry trip from the main island to arrive to Vieques. Book a kayaking tour on the The Mosquito Bioluminescent Bay and watch how the water sparkles when moved. It is a beautiful and relaxing experience to have. While in Vieques, you can also enjoy exquisite beaches with white sand and blue waters that are less frequented by people.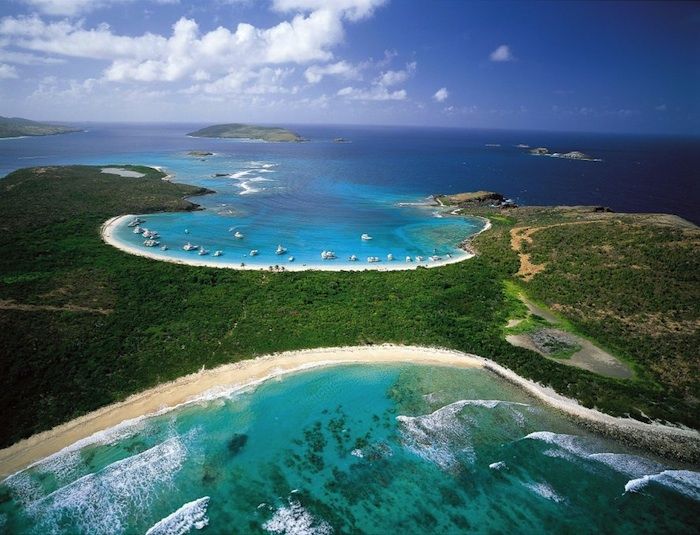 5) Culebra
The other island-municipality off the East coast is called Culebra and is probably one of the most popular places to visit for a truly local and tropical experience. You can stay a couple of days and pick between hostels, airbnbs and luxury hotels. The nightlife is definitely a local-oriented and relaxed setting. During the day, make sure to go to Flamenco Beach, which has been rated in the past one of the most beautiful beaches in the world. The best time to go is during the summer when tides are low and waters are clearer. It is a great spot to go snorkeling and swimming with turtles! Another "must" is booking a boat tour to go to Culebrita island next to Culebra. This tour is always booked so check months in advance for spots! The crystal-clear waters of Culebrita are to die for. Some boat tours include food and drink services if you'd like a more formal and catered experience.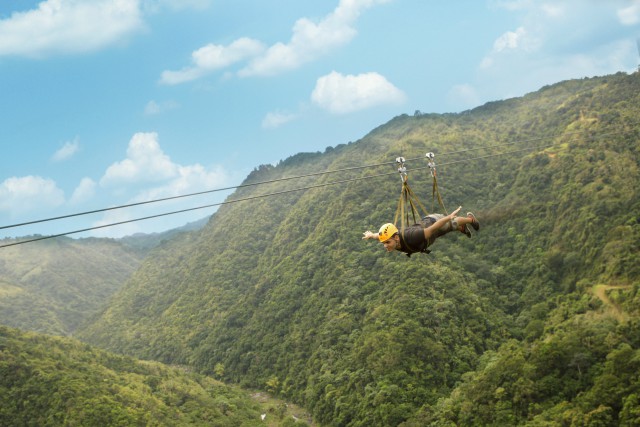 6) Toro Verde, Orocovis and "Chinchorreo"
For those looking for more adventure, Toro Verde Park is the place to go. The zip-lining natural park has several cable lines of different lengths and heights, including the best one named "La Bestia" (The Beast). La Bestia is the best to go at high speed in superman style. Orocovis in itself is a great municipality to go on a very typical thing to do in Puerto Rico called "Chinchorreo." A "Chinchorro" is considered a small, local bar or food place characterized by being in a rural area of Puerto Rico. "Chinchorreo" is essentially just like bar hopping, but transferring from place to place in a rented bus or a crew of cars. Orocovis has popular routs to do this fun activity. If you have a Puerto Rican friend, try and see if you can plan a day of "chinchorrear" because it is always a blast!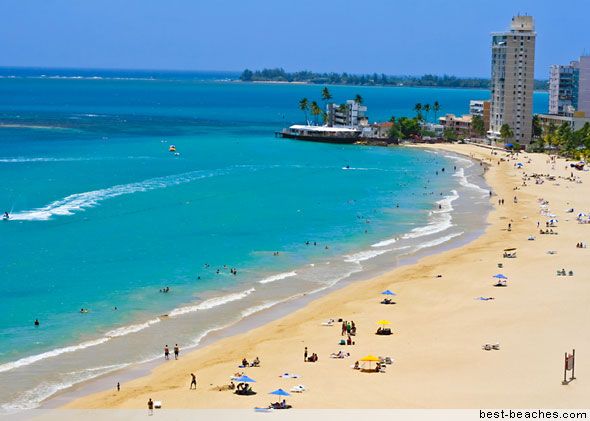 7) Isla Verde Beach, Carolina
Now, for those who like to keep it relaxed and within the metro area, one of the best beaches within a 10-15 min drive from the Old San Juan, Condado, and Santurce areas is the Isla Verde Beach. Since it is one of the main urban beaches, it definitely gets packed on Saturdays and Sundays. It does have a very nice sandy, big coastline and turquoise waters. You can go jet-skiing, banana-boating, and parasailing!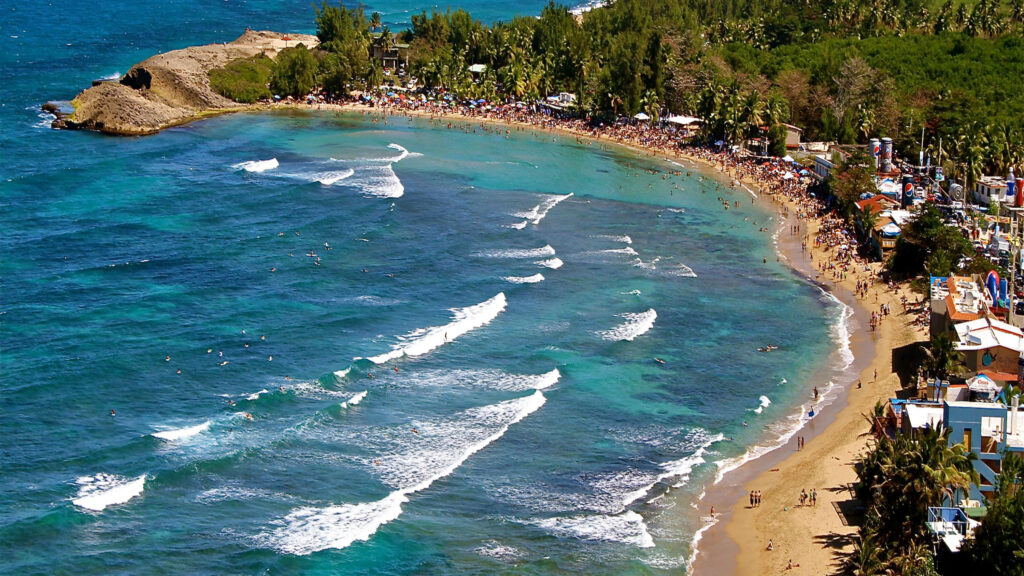 8) Rincón
Rincón is a municipality on the Western coast of Puerto Rico and perfect for surfer lovers! Since the coast has many elevated natural formations, it creates perfect beaches for those looking for tubular waves. If you're a professional, make sure to check-out annual competitions. If not, there are many agencies you can sign up for beginner classes. Like mentioned before, Rincón is a hilly area, and this precisely provides amazing views for the numerous Aribnbs that have popped up in the town. Make sure to have a good car because some roads are very slanted! If you're a foodie, you have to visit Chef's Garden, a deliciously curated farm-to table cuisine experience.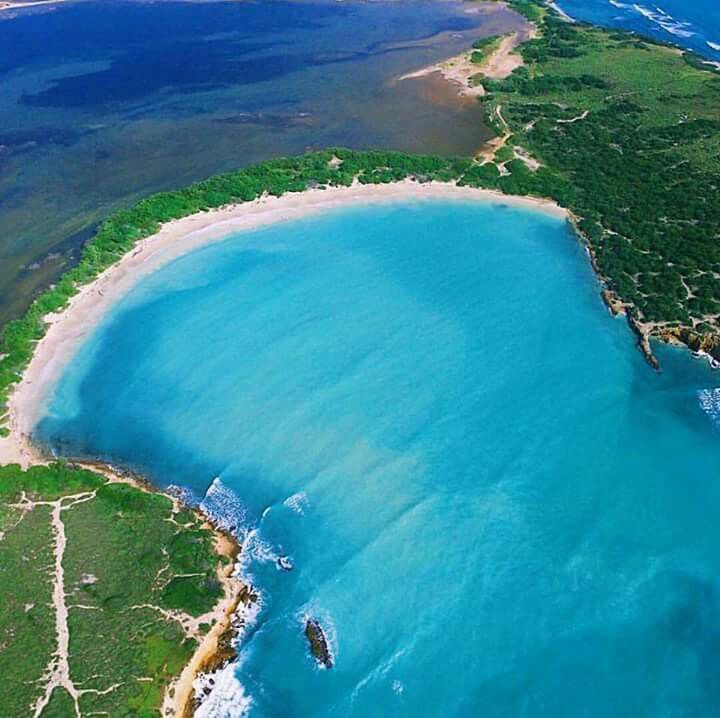 9) Playuela, Cabo Rojo
If road-trips and beautiful, remote beaches are your thing, this is the place to be. Playuela Beach is located at the Southwestern most tip of Cabo Rojo. From the metro area, it takes about 3 hours to arrive. If you plan a day trip, make sure to head out very early. Otherwise, Cabo Rojo also has many hospitality options. Although the last trek to get to Playuela is a pretty rough terrain (sedan cars not recommended), it is totally worth it once you get to its secluded area. During low tide summer season, the water is warm and light blue with little waves. The beach also has a small hike to a lighthouse where you can take stunning, scenic pictures.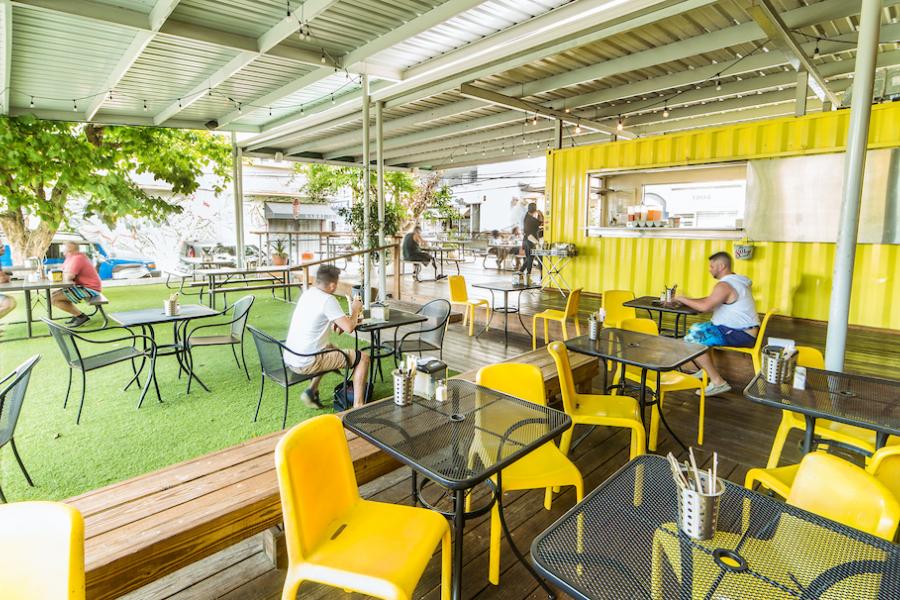 10) Calle Loíza, Santurce
La Calle Loíza has historically been a very local-oriented street for shopping, food, and nightlife. In the past years, it has gained traction from travelers as well! During the day, La Loíza has numerous places to pick where to eat, from small cafés like Pinky's to mimosa-filled brunches like Tostado. There are some cool boutique shops as well as fashionable second-hand clothing stores like Vice Versa. If you're a tattoo lover, visit the best place in the Caribbean to get one: Color Conspiracy. At night, however, is when La Loíza comes alive. Go to a high-end dinner in Bottega, or quickly grab savory tacos in Acapulco restaurant. Then explore different businesses depending on your mood. You can play pool, dance "Bomba" (an Afro-Puerto Rican musical and dance tradition), or go clubbing with techno and reguetón. The street is about 5 blocks so it is manageable to have a mixed experience in just one night with the diversity of locals it has to offer.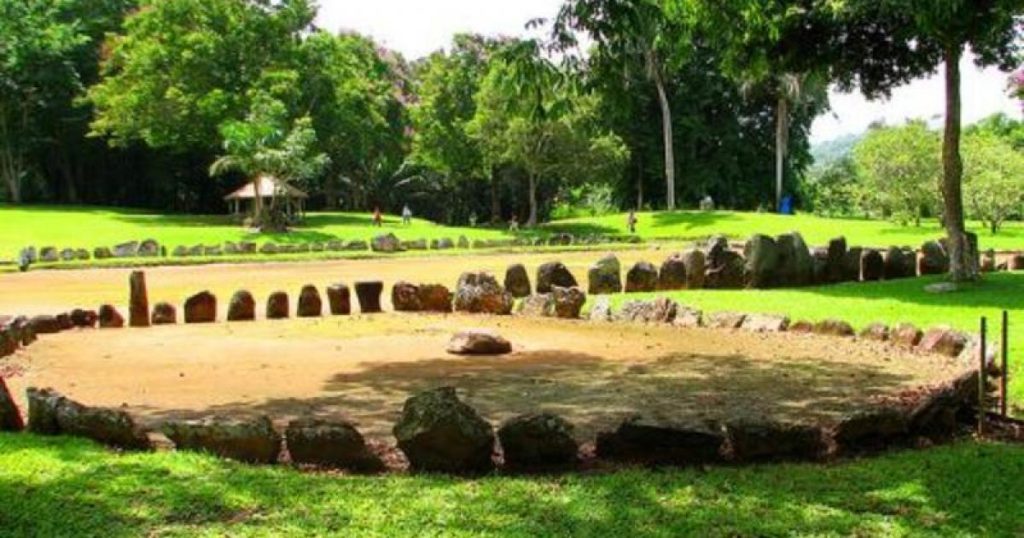 11) Caguana, Utuado
Looking for some Indigenous history? The Caguana Ceremonial Ball Courts Site is over 800 years old and was built by the indigenous group named the Taínos that inhabited most of the Caribbean. The ball courts, named "bateyes," are where the Taínos carried out distinctive ceremonies, religious rituals, or played games. In Caguana, there are around 30 "bateyes" to view, some with cool petroglyphs carved by the Taínos themselves. The park also has a museum with ancient artifacts, archaeological exhibits and a botanical garden featuring plants the Taínos harvested. In the park you can also see some reconstructed "bohíos" (Taíno's homes) made from trees like mahogany and ceiba.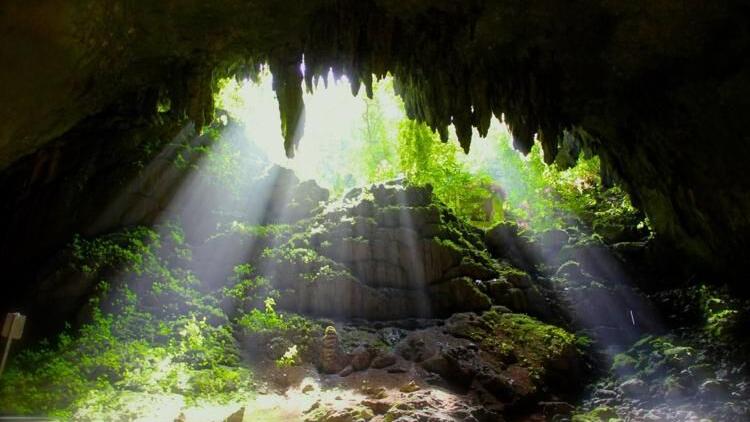 12) Cavernas de Camuy
Lastly, but certainly not least, if you're a geology-lover, make sure to plan a day to see this park. Book a tour to walk through one of the caverns of the cave system and learn about its formation. If you're a thrill-seeker, you definitely have to do the Cueva y Sumidero Espiral (Spiral Cave and Sinkhole) tour. You must walk down a scenic 205-step boardwalk with the main challenge being going back up to the main entrance afterwards. If you're a professional, you can gain special permission and go underground the river. Whether simple or challenging, either way the opening of the cavern has a gorgeous sight for awesome pics!
Lastly, if you're a go-getter ready to do all of these awesome things in one cool trip to "La Isla del Encanto", the optimal timeframe is 2 weeks in Puerto Rico with a rented SUV car!
Salud y Éxito
Daniela Barquet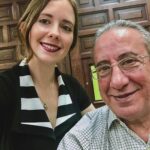 Daniela Barquet is the 4th generation owner of her family's jewelry store located in Old San Juan, Puerto Rico since 1965. The business tradition was started by her great-grandfather, Issac Barquet, in 1920. Daniela graduated from Boston University with a Bachelor's in the History of Art and Architecture and a Minor in Italian Studies. Daniela continues to grow under the mentorship of her father, Natalio Barquet Perez, who is a renowned, certified jeweler in Puerto Rico.