The quaint and European-style city of Viejo San Juan (Old San Juan) in the Caribbean island of Puerto Rico is full of gorgeous historical sites to see. Founded in 1521 by Spanish settlers, the city was originally named "Ciudad de Puerto Rico" (Rich Port City). Viejo San Juan is the perfect spot to experience and take amazing Instagram-worthy pics of its Spanish architectural heritage. Here are the top historical sites to visit while in Viejo San Juan: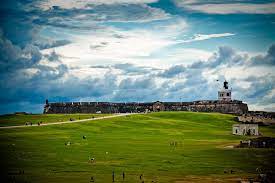 Castillo San Felipe del Morro (El Morro)
Greeted with a massive and beautiful, green lawn with a view to the ancient Santa María Magdalena de Pazzi Cemetery and vast ocean, you walk towards one of the oldest fortifications in Viejo San Juan: Castillo San Felipe del Morro. Its construction started in 1539 and culminated in the 18th century. Its main purpose was to defend the city from foreign attacks and invasions. Book a tour and get to go inside the fortress-museum to see artifacts like Spanish artillery and military clothing. If you prefer a more scenic experience, book the Harbor Sailing tour and witness El Morro during a gorgeous island sunset. Other ideal activities can be flying kites or a delicious picnic on the El Morro Lawn. At the end of the day, buy a refreshing "piragua," a typical Puerto Rican drink made from flavor-infused ice like frambuesa, parcha, and tamarindo (raspberry, passion fruit, tamarind).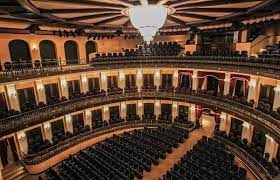 Teatro Alejandro Tapia y Rivera
If you want to find yourself enthralled by Italian-style architectural and interior design, the Tapia Theatre is a gorgeous historical stop during your adventure in Viejo San Juan. Built in 1824, it is named after Alejandro Tapia y Rivera, a Puerto Rican poet and dramatist. The Tapia theatre accommodates a little over 600 people. While small and quaint, it is a beautiful space to experience operas, ballets, orchestras, and plays. If you have time, book a cultural event in the theatre and transport yourself back in time once inside. Otherwise, appreciate its gorgeous architecture then stroll through the neighboring Plaza Arturo Somohano surrounded by local restaurants.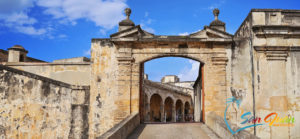 Castillo San Cristóbal
If you arrive to Old San Juan by car and enter through the upper-Eastern side, you will be greeted to your right by the Castillo San Cristóbal. This is another massive and monolithic fortification constructed by the Spaniards from 1634 to 1765. While also meant to protect defend the city like El Morro, it's main purpose was to stand guard for land-led attacks. San Cristóbal, is still the largest fortification built by the Spaniards in the "New World," so to speak. So much so that 1/3rd of the fortification was, sadly, demolished to help with the influx of traffic into the historic city. While it is certainly a site to see on its exterior, the inside of the fortress is just as impressive. Book a free or low-cost tour and do a guided exploration of the site. See the different rooms throughout the castle, such as military bunkers and pillboxes built in 1942 by the U.S. Army. Other features include the drill square and bombproof rooms known as casemates.
Wander through tunnels where gunpowder was kept and peer though ports that were used for firing the cannons. Stroll down to the Garita del Diablo, a sentry box by the water's edge. The myth goes that soldiers would mysteriously disappear there, giving it its devilish nickname. Head under the fort to find five vast cisterns designed for holding 800,000 gallons of rainwater. Imagine being a prisoner in the castle's dungeon, where you can see drawings on the wall made by an 18th-century inmate.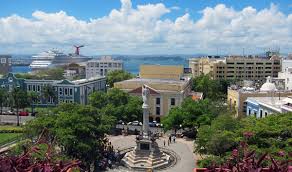 Plaza de Colón
A great next stop after seeing the Castillo San Cristóbal is the Plaza de Colón, a 2-minute walk from the fortress. This public square is most likely the most important one in Old San Juan. The plaza was formerly known as the Santiago Square because it used to have the main city gate, Puerta de Santiago, that, in tandem with Castillo San Cristóbal, was the access control to the city. After that section of the wall was torn down, the Statue of Christopher Colombus was erected in the plaza in 1893 to commemorate 400 years of the Spaniards arrival in Puerto Rico. While it was still officially named Plaza Santiago, because of the Colón statue people colloquially started naming it Plaza de Colón, it's official name today. The plaza is also important because it is surrounded by other cultural buildings such as the Tapia Theatre (referenced above) and the Antiguo Casino (Old Casino), built in 1917, another beautiful spot recommended to view on the inside. The other perk of Plaza de Colón is that it is also surrounded by local shops and cafes if you're looking to buy souvenirs or catch a bite to eat.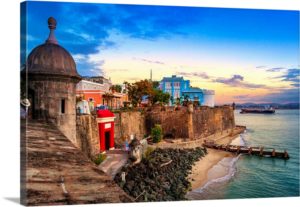 Paseo de la Princesa and la Puerta de San Juan
Moving from the Eastern part of Old San Juan to the Southern-Western area is the Paseo de la Princesa (walkway of the princess). Today, it is a gorgeous promenade with antique light posts, decorative vegetation, and a sea-side walk view to die for. But in 1837, the site used to be La Antigua Prisión de la Princesa (a prison) named after Elizabeth II of Spain. Historically, the site used to fall outside the city fortress walls where the military could test firing cannons and guns. The prison was in operation until 1965 and all of the surrounding area was rehabilitated in 1989 to what is now the beautiful promenade. What used to be the prison is now the main offices of the Puerto Rico Tourism Company. The most impressive part of Paseo de la Princesa is reaching the only remaining original city gate: Puerta de San Juan. Formerly, the gate was named Puerta de Agua (a water gate) because it leads to the Western harbor of Old San Juan. In total, the Old city of San Juan used to have 5 doors to access the town. During your stroll, you can also stop and eat at Princesa Gastrobar that has delicious authentic food or stop at different street vendors for artisanal snacks and art.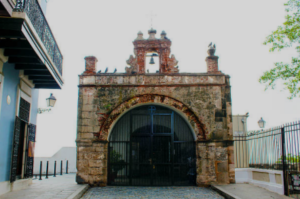 La Capilla del Cristo
La Capilla del Cristo is probably one of the most beloved and beautiful historic structures in Old San Juan. It is a small chapel with an exquisitely decorated interior that is a "must" to view. Inside the altar is inlaid with silver and gold. The chapel also contains paintings by José Campeche, one of the most important late 18th early 19th century painters in Puerto Rico. Its architectural construct is also incredible, built in the Spanish Baroque style, it has its singular arch and a small, yet endearing belfry atop. The gate was added in the 1940s to protect it from looting. The chapel holds limited hours to be able to view the interior. In addition to its architectural and artistic significance, La Capilla del Cristo has a folkloric story surrounding its construction. It is said that during a horse race, rider Baltazar Montañez took a fall and went over the precipice, but survived due to divine intervention. It is said that the chapel was built in honor of this miracle and to prevent other accidents like those from occurring. On the basis of this religious story, devout Catholics visit the site to leave votives and pray.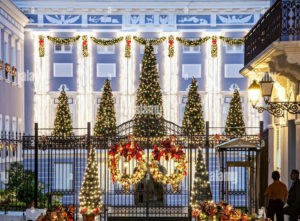 La Fortaleza (Palacio de Santa Catalina)
The next perfect historical stop in an adjacent street to La Capilla del Cristo is the Puerto Rico governor's home: La Fortaleza, also known as Palacio de Santa Catalina. La Fortaleza was built between 1533 and 1540 and it is the oldest executive mansion in continuous use of the "New World." It was originally erected as the first defensive fortress for the San Juan harbor and became a governmental residence in 1544. After its reconstruction in 1640, which integrated the Santa Catalina Chapel as part of the fortress walls, it also became known as Palacio de Santa Catalina. The structure is so significant it was a fortification erected after being authorized by the Holy Roman Emperor of the time, Charles V of Spain. Book a tour and visit the interiors of La Fortaleza for a minimal fee. It is definitely worth it since you'll see beautiful royal decorative interiors.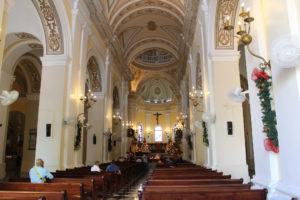 La Catedral de San Juan Bautista
The cathedral is one of the oldest buildings in San Juan and is the second oldest cathedral in the Americas after the Cathedral of Santa María la Menor in Santo Domingo, Dominican Republic. The Cathedral of San Juan Bautista, however, was the first diocese of the Catholic Church in the "New World" with bishop Don Alonso Manso in 1511. The original cathedral was constructed from wood in 1521. It was destroyed by a hurricane and then reconstructed in 1540, being added to and remodeled over the centuries, the last time being in 1917. Apart from the Cathedral's beautiful interior designs and historical art, one of its main attractions is the tomb of the Spanish explorer and settlement founder, Juan Ponce de León. Juan Ponce de León founded the oldest settlement in Puerto Rico, Caparra, and later became the island's first governor.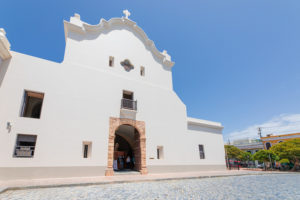 Iglesia San José
While Juan Ponce de Leon's tomb is in Old San Juan's Cathedral, his armor is visible at San José Church, constructed from 1532 until 1735, this church is also a wonderful stop on your historic visit since it is a great example of Gothic architecture in the Western Hemisphere. Ponce de Leon's grandson is buried there as well as the Puerto Rican painter, José Campeche, mentioned previously. It is now prime time to finally enter the Church since restoration started in 2002 and recently finished in March of this year.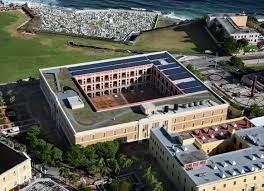 Cuartel de Ballajá
Constructed from 1854 to 1864, this building served as infantry barracks and permanent housing for a little over one thousand soldiers. The huge building consisted of rooms for officers, soldiers and their families, storage, kitchens, dining rooms, jail cells and stables for horses. The ascending vaulted gothic ceilings above the main staircase are unique in Puerto Rico. Currently, there is a wonderful and quaint small theatre that still holds plays in one of the rooms, a restaurant, and the Museum of the Americas. During Christmas festivities, the open central space is used to house booths for diverse artisans from around the island.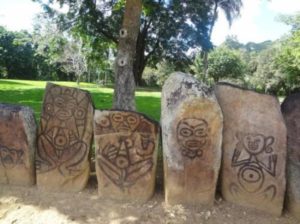 Caguana, Utuado
Looking for some Indigenous history? The Caguana Ceremonial Ball Courts Site is over 800 years old and was built by the indigenous group named the Taínos that inhabited most of the Caribbean. The ball courts, named "bateyes," are where the Taínos carried out distinctive ceremonies, religious rituals, or played games. In Caguana, there are around 30 "bateyes" to view, some with cool petroglyphs carved by the Taínos themselves. The park also has a museum with ancient artifacts, archaeological exhibits and a botanical garden featuring plants the Taínos harvested. In the park you can also see some reconstructed "bohíos" (Taíno's homes) made from trees like mahogany and ceiba.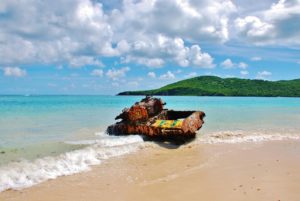 Culebra, Puerto Rico
While Culebra is known for having one of the most wonderful beaches in the world, Flamenco Beach, it is also a site for a bit of US military history. Right on Flamenco beach you can see an abandoned US Military tank. From the 1940s until as recently as 2003, the US used Vieques as a training ground for war. Since Vieques neighbors Culebra Island, operations were held there as well. For years, Boricua islanders, native to Vieques and Culebra, protested for US military operations to cease since bomb-testing was a regular practice that left detrimental environmental impacts on Culebra and mainly Vieques. Once the US military abandoned the sites, some tanks were left behind and now have become historical, yet bitter remnants to both islands.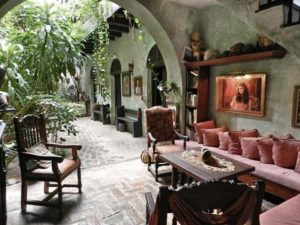 Bonus: Indoor Patio Tour
While not a specific historic site, Old San Juan is famous for its stunning indoor patios from homes dating back to the Spanish reign. Book this tour and explore several homes with exquisitely decorated indoor patios with lovely ceramic tile patterns typical of Old San Juan homes.
Last Notes
One of the best parts about Old San Juan is that, as a quaint historic town, you can explore most of its gorgeous sites in a handful of days. Even a day if you start early. It is perfectly suited for leisurely walks, delicious cafes, boutique shops, and historically-rich civic and religious buildings. Currently, the old city is celebrating 500 years of its founding! You can find different festive and cultural activities in various plazas in Old San Juan. Take a break from the cold and come visit "nuestro Viejo San Juan."
Salud y Éxito
Daniela Barquet
Updated on 11/3/2022 by Daniela Barquet to include two additional spots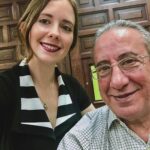 Daniela Barquet is the 4th generation owner of her family's jewelry store located in Old San Juan, Puerto Rico since 1965. The business tradition was started by her great-grandfather, Issac Barquet, in 1920. Daniela graduated from Boston University with a Bachelor's in the History of Art and Architecture and a Minor in Italian Studies. Daniela continues to grow under the mentorship of her father, Natalio Barquet Perez, who is a renowned, certified jeweler in Puerto Rico.