Puerto Rico is known as "La Isla del Encanto" (The Island of Enchantment). A gorgeous Caribbean tropical island. Puerto Rico offers a range of beautiful natural sites, delicious cuisines, and historic settings. Commemorate and forever remember Puerto Rico through some amazing mementos and souvenirs you can take home with you.
Jewelry from Puerto Rico
Coquí Tree Frog Jewelry
One of the most popular and best ways to remember a vacation or trip is through jewelry. Jewelry stands out because of its transcendental characteristics. Whether a hand-made piece or a casted precious metal, jewelry holds an intrinsic value that makes for the perfect memento. The top place recommended to buy high-end, unique and original, precious metal jewelry would be at Coquí el Original® in Calle de la Fortaleza, Old San Juan. They are best known for their beautifully designed Coquí Jewelry in both solid 14K yellow gold and sterling silver .925 with diamond accents. To provide context, the coquí tree frog is an endemic species to Puerto Rico. The coquí sings throughout the night and it is a symbol of pride and joy for all Boricuas (Puerto Ricans). Their Coquí Design is elegant, cute, and impeccably made. Coquí el Original® offers a range of other locally-inspired designs and collections that will also remind you of Puerto Rico.
Coconut-Carved Earrings
Artisanal jewelry is also a major tradition and source of pride in Puerto Rico. A very stylish accessory are the coconut-carved earrings that can either be painted or left bare. Colored coconut earrings are dipped in acrylic paint and then lacquered, leaving beautiful gradients of color like red-orange, blue-green, and pink-lilac that look like waves over flower and leaf designs. If left bare, the color depends on the age of the coconut. Beige-colored earrings are of younger coconuts whereas dark ones are mature. They are polished for shine and left with their original coconut markings. These come in diverse geometric shapes like triangles, circles, narrow rectangles and square stud-earrings.
Aluminum-Crafted Rings
Another popular artisanal fashion accessory are the aluminum-crafted rings! The aluminum wire is twisted into cool, funky shapes like abstract suns, musical notes, and crosses. The great part is that most can be adjusted to your finger size by pulling on the wire. If you're a ring-lover, mix and match diverse designs on different fingers these pieces offer. Aluminum-crafted jewelry is a great fit for people that love monochromatic looks for their jewelry. If you like to boast big, colorful pieces, fiber-glass resin necklaces are perfect. They are vibrant, abstract jewelry pieces. Hand-crafted sea-glass jewelry is another popular form of artisanal accessories. These are also great for showcasing vibrant colors. Collected from washed-up glass of our shores, the pieces are transformed into earrings, pendants, rings, and bracelets. Lastly, wood-worked jewelry is another prevalent and beautiful style of Puerto Rican artisanal jewelry. Many emulate Taíno- petroglyph designs. The Taínos were the local indigenous group of Puerto Rico and the Caribbean. Pick your preferred Taíno image from abstracted suns, birds, water, and fertility images.
Coffee, Rum and Traditional Sweets from Puerto Rico
If you're a coffee lover, Puerto Rico is renowned for its deliciously-made coffee styles like "el cortado" and "el pocillo." But you can also purchase some amazing coffee beans grown locally throughout the island. The great part is, you can grab these coffee beans while in Puerto Rico or order them online from local stores that ship to the states. Here are some of the best coffee beans you can purchase. Located in Calle del Cristo #200, Viejo San Juan, Filtrado is an amazing store to shop beans grown in the municipality of Ciales, Puerto Rico. You can choose between the whole bean or ground coffee for your specialty bag.
For a truly history-filled coffee experience, Cuatro Sombras (Four Shades) is the perfect place to grab a bag of coffee beans. Back in the late 19th century, Domingo Mariani from Corsica arrived to Puerto Rico and settled in the mountains of the municipality of Yauco. He founded the Hacienda Santa Clara and exported his coffee beans internationally. While growing coffee beans under tree shades was a common practice due to the nutrients the beans receive, Mariani used 4 particular trees: pacay, guama, dragonsblood, and muskwood. While the "hacienda" eventually shut down, descendants of Mariani began to replant the "hacienda" and created "Cuatro Sombras" in 2011 with shops in Old San Juan and Dorado. If you want rich-in-flavor coffee harvested in Yauco, take home a bag of beans, whole or grounded, from Cuatro Sombras.
Another rich tradition in Puerto Rico is the production of rum, with many brands known both domestically and internationally. While Bacardí and Don Q are rum brands from Puerto Rico you must try, Ron del Barrilito and Caliche Rum are colored with a local business history and tradition we all love to hear! Ron del Barrilito has a tradition of almost 140 years ago. In 1787, the Spanish Crown granted the Fernández Family the Hacienda Santa Ana in the municipality of Bayamón. Pedro Fernández, who had learned during his time in France about the production of aged spirits, created Ron del Barrilito in 1880. It is named "rum from the little barrel" because it was poured straight from the "barrilito." Since then, it has been a renowned local business tradition that has created limited editions of its delicious and fine-aged rum over the years.
Caliche Rum also has a long history as well as a very unique process to their rum production. The Serrallés are still a very known family that have been in the rum and liquor business since 1865. Don Juan Serrallés, the son of a Spaniard who settled and founded the Hacienda Serrallés in the municipality of Ponce and created his first caskets of rum using a copper still. Caliche Rum's age and blend is also very unique. It contains 4 differed aged rums using a 3-stacked layer system of barrels. The blend of different aged rums, as well as their distinguished fermentation, distillation, and filtration processes, gives Caliche a unique flavor. If you're looking to return home with a divinely flavored liquor, a bottle of Caliche or Ron del Barrilito are great souvenirs from Puerto Rico.
If you've got a sweet tooth, Puerto Rico offers a range of incredibly delicious "dulces" (sweets/candies) you can take home to your loved ones as culinary gifts. The best places to buy these are either from artisanal shops or local outdoor market events. It is said that the origins of Puerto Rican candy come from the figure of "el jibarito," a worker typically living in the Puerto Rican mountain range that, during the industrial revolution and even today, came to symbolize a folk hero dedicated to the land and crops. The "jibaro" used native fruits to create what we know of today as "dulces típicos." Some Puerto Rican candies include:
· Batata (Sweet Potato),
· Dulces de Coco (Coconut)
· Naranja (Orange)
· Coco Piña (Pineapple Coconut)
· Mampostial (Dark Coconut/Citrus)
· Leche de Coco (Coconut Milk)
· Dulce de Coco Blanco (White Coconut)
· Dulce de Ajonjoli (sesame)
· Dulce de Papaya (Papaya)
· Pasta de Guayaba (Guava)
· Pilones Ajonjili (lollipops with sesame)
Experience unique Tropical flavors you won't want to miss. Grab an assortment and gift your friends and loved ones with some out-of-the-ordinary candy!
Art from Puerto Rico
Another perfect way to remember Puerto Rico forever is through art. Very much like jewelry, art is another medium that transcends time and holds intrinsic value. Puerto Rican art is the result of a distinctive combination of history, events, and people of multiple colors, races, religions, languages and cultures. This identity, along with Puerto Rico's naturally-tropical island and vibrant characteristics, influences the creativity expressed in different mediums and styles of art. One popular form you'll find in many shops in Old San Juan is the serigraph. Serigraphs are a very complicated form of art that forces layers of ink through a series of silk screens to create the final image. The more colors, the more complex the serigraph becomes. You can find beautiful works made by Jaime Lopez and Roberto Matos, who draw inspiration from nature, fruits, and architecture to create their pieces.
If realism is a theme of painting you prefer, you may consider purchasing an original oil painting from artists such as Alicia Maury and Norberto Ruiz Nieves. These artists create beautifully-rich-in-paint canvases with traditional subject matters such as people and landscapes. They're inspired by beachscapes, wildlife, as well as flora and fauna. If you're looking for depictions of livelier Puerto Rican cultural events and scenes, artist Mariano Hernández creates impactful original acrylic paintings. Preferring acrylic paint because it dries faster, Mariano's art pieces include "Bomba" Dancers (an Afro-Puerto Rican typical dance), "Vejigantes" (an Afro-folkloric carnival character), and "Piragüero" Seller (a Puerto Rican that sells the "piragua," a drink made from fruit-flavored syrup). These are just some of the many talented artists in Puerto Rico that commemorate and honor Boricua identity and culture. A souvenir piece for a lifetime.
Arts and Crafts Made in Puerto Rico
One of the most popular art-forms in Puerto Rico are crafts. While touched under "jewelry," there are a myriad of other artisanal works to choose from that will make you forever remember Puerto Rico. Many designs are crafted from ceramic or wood and draw from religious and cultural traditions. From miniature to medium-sized pieces, there are figurines inspired by Puerto Rican people like mothers, fathers, doctors, and professors. Popular themes are also "Los Tres Reyes Magos" (the Three Kings) and "El Nacimiento" (The Birth of Jesus Christ). These last themes are very important in Puerto Rico, where we celebrate one of the longest Christmas in the world. Much like the states, on the 25th of December we celebrate Christmas, but equally as important and spanning back even before the tradition of Christmas, is the Three Kings Celebration on January 6th. In some municipalities like Juana Díaz, there is an annual parade to celebrate the day the magical kings left gifts for baby Jesus. Other beautiful artisanal works are miniature Old San Juan Spanish architectural facades, Christmas tree ornaments, animals and nature.
Clothing from Puerto Rico that Make Perfect Souveniers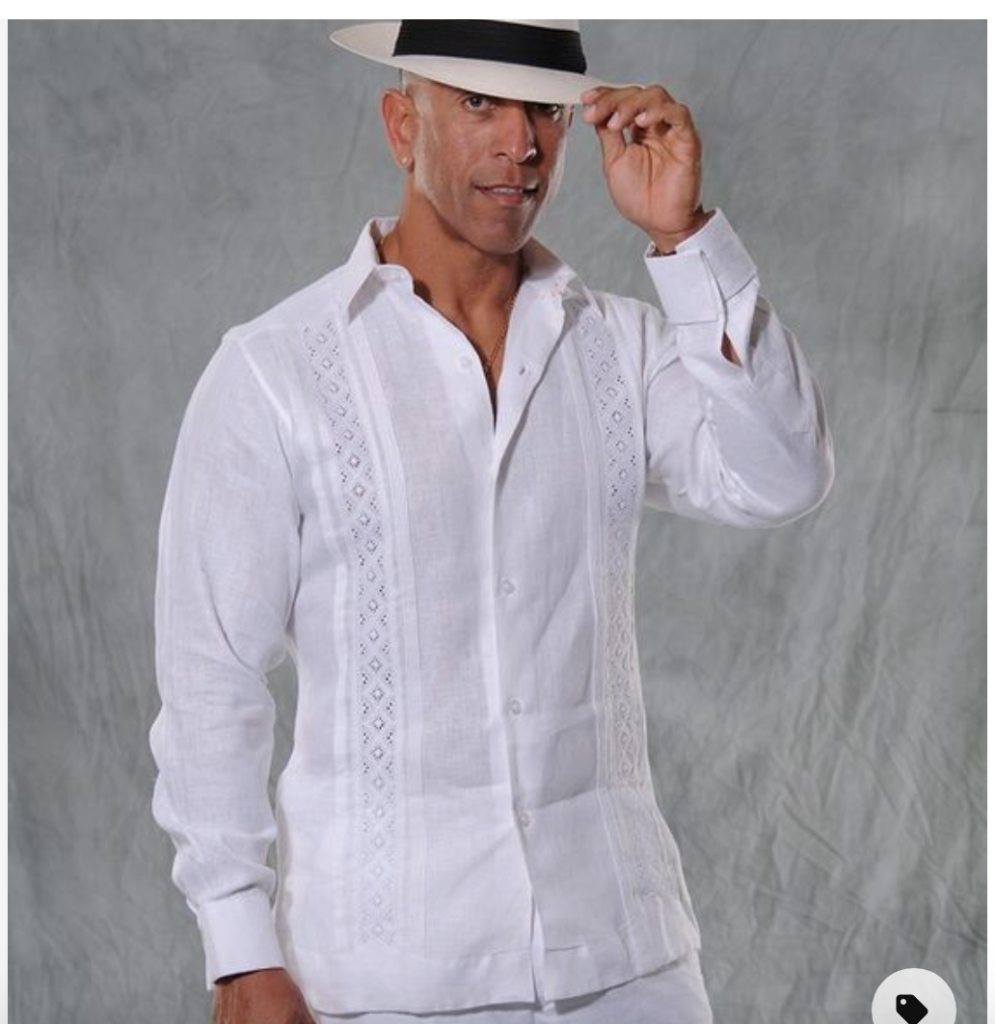 If you're interested in buying for yourself or gifting an authentic style of Caribbean clothing, Puerto Rico has a traditional men's shirt named "la guayabera" made from linen or cotton and typically white. It is popular throughout Mexico, Central America, but most known in Cuba and Puerto Rico. The guayabera can be worn for both casual and formal settings depending on the occasion. The guayabera is a symbol of masculine elegance in Latin American culture. Each guayabera is different and has its own singularity because of the embroidery and handwork. The history and origins of the guayabera are generally unknown and contested. Nonetheless, it is a popular clothing style in Puerto Rico and can be an authentic souvenir from the island.
While the guayabera is a historic men's clothing style form the Caribbean, the only prevalent women's style clothing that are still worn today are performance-related attire. For example, there are the Bomba dance skirts characterized by being long and thick to move around and create beautiful waves during the dance. Women can, however, support local clothing brands for their souvenir of choice. Playero is a great Puerto Rican brand to support if you're looking for sport and beach-style clothing. You can find tank tops, swimsuits, shorts, t-shirts, and more with the classic Playero logo.
Instruments Used in Puerto Rican Traditions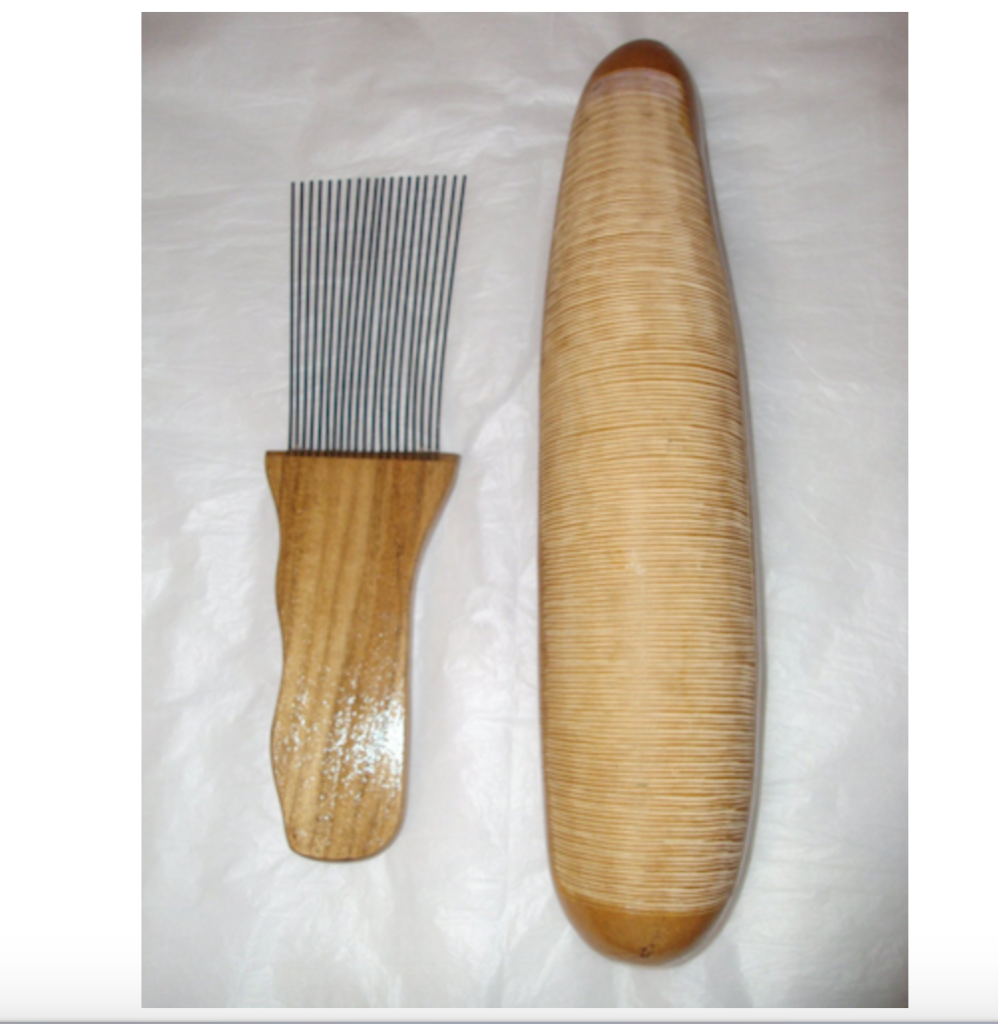 If you're a music lover, Puerto Rico is a hub of internationally-loved music. From salsa to urban music, we are known throughout the world. But a very fun and less-known tradition of music here is known as "la parranda." "La parranda" is a group of people that go to a home (uninvited) and sing Puerto Rican Christmas songs. Similar to caroling, it becomes a door-to-door event, but much more festive and boisterous. The goal is to "force" the people in the home to open the door and join the festivity by inviting them to eat and drink. That being said, "la parranda" makes use of awesome Puerto Rican instruments. The most iconic instrument would be "el guiro" made from a gourd that has been carved or notched to create a ridged surface. A metal stick is used to scratch the gourd and create musical sounds. "El guiro" can accompany other popular "parranda" instruments like "los palitos" (the sticks), "el cuatro" (similar to the guitar), and maracas. A Puerto Rican instrument, like "el guiro" can be a quirky and special way to integrate a little bit of Puerto Rican music into your home.
While your vacation for pleasure, business or personal reasons ends, your memories of Puerto Rico can be honored for life with a special souvenir from the island. These are just some of the numerous examples of wonderful art, crafts, rums, jewelry, clothing, and instruments you can consider purchasing while in "La Isla del Encanto."
Salud y Éxito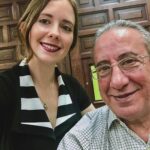 Daniela Barquet is the 4th generation owner of her family's jewelry store located in Old San Juan, Puerto Rico since 1965. The business tradition was started by her great-grandfather, Issac Barquet, in 1920. Daniela graduated from Boston University with a Bachelor's in the History of Art and Architecture and a Minor in Italian Studies. Daniela continues to grow under the mentorship of her father, Natalio Barquet Perez, who is a renowned, certified jeweler in Puerto Rico.