High-quality jewelry crafted in precious metals is one of the best ways to commemorate important or unique life events. Being more granular, in the past 10 years, jewelry brands focused on creating collectable charms have burgeoned. While Pandora probably comes to mind as the paragon for charm jewelry, there are numerous high-end jewelry brands that have their own style of designer memory-collecting pieces. Popular in this jewelry category are travel bracelets. Customers seek out a charm from each travel location that will evoke fond memories of that place when gazing at their bracelet or necklace. Collecting unique charms is not limited to travel, many people have alternate wearable memories, achievements or specific quirks. For example, you can find charms related to a profession- like a stethoscope for a doctor- or movie-lover designs- like Star Wars charms. People love high-quality charm jewelry (and jewelry as a whole) because it combines fashion and individuality with sentimental value that will last for generations.
A cool fact about this genre of jewelry is that it has also been around for centuries! Dating all the way back to Egyptian pharaohs (approx. 3,000 – 500 BCE), jewelry was both decorative and functional. Crafted from different materials like gold, gems, wood, rock or animal teeth, Egyptians wore bracelets and necklaces as signifiers or amulets. These jewelry pieces would function as identifiers for the gods, ward off evil spirits, or socially-stratify people (differentiate a pharaoh from a priest). Egyptians had a predilection of adorning themselves and the art and architecture they created (like tombs for pharaohs) as a way of celebrating and honoring gods like Ra, the sun god.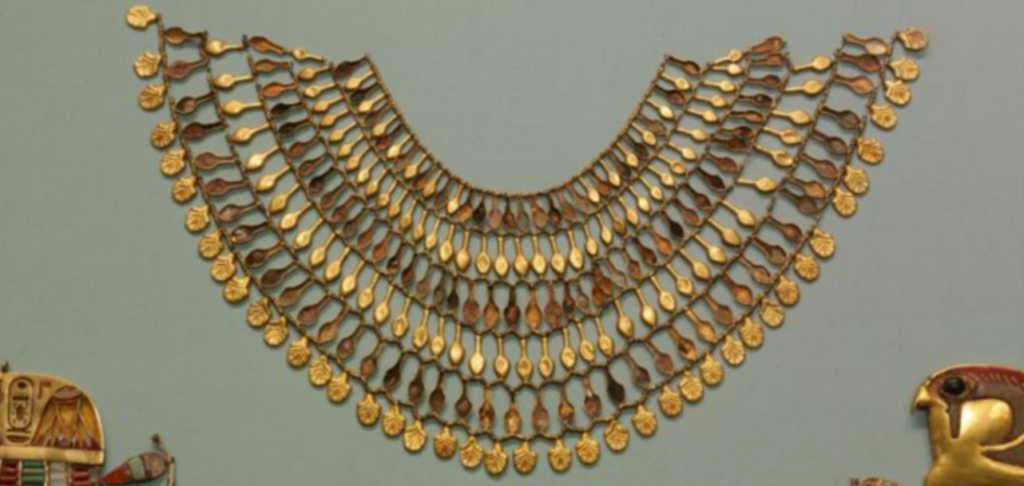 Since even prehistoric civilizations, jewelry-creation was inextricably tied to religious beliefs. This is one of the reasons jewelry and charms continued to serve as both decorative and functional pieces throughout other cultures and civilizations. Through a Euro-centric lens and thinking about after the fall of the Roman Empire, Christians and Jews wore gold charms under their garments as hidden markers of their faith. With the rise of knights, these gold charms also became protective pieces for when in battle. It was not until 18th and 19th century Europe that charms began to evoke alternate meanings with an added decorative value. Chatelaines worn on women's waists are considered the predecessors of charm bracelets. On those chains dangled essential pieces like sewing items and magnifying glasses crafted in silver. For men, fobs became a popular jewelry item to showcase family crests, hobbies, and profession. Such was the case that in the later 1930s and 40s, the famous fashion designer Elsa Schiaparelli wore her grandfather's watch chain with antique fobs and intaglios.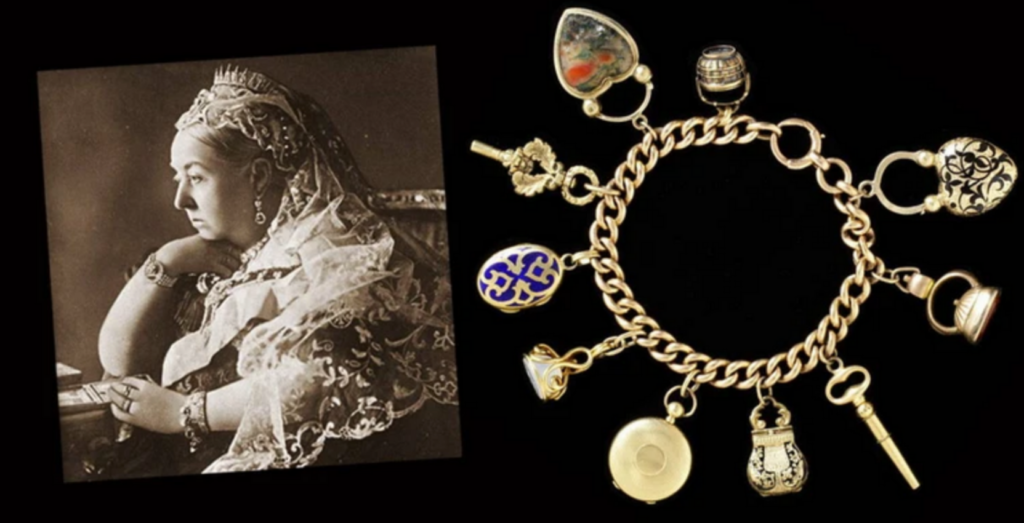 Another prominent figure that influenced the evolution of charm bracelets was Queen Victoria in England. She is known for wearing and gifting bracelets with charms that evoked love or had sentimental value. Such was the influence of her use of love and sentimental motifs that even modern brands continue to emulate. Think of Tiffany's famous Love Bracelet, for example, that was also created in the late 19th century and continues to be a type of status symbol even today. Queen Victoria had a range of charm bracelets, one of which contained lockets symbolizing each of her children that her love, Prince Albert, gifted to her with each birth. Such was her sentiment that when Prince Albert died, she also had mourning bracelets crafted from enamel, jewels that contained miniature photographs and inscriptions. Tying jewelry practices from Egyptian times mentioned above, after Queen Victoria's death, she left specific instructions to leave some of her jewelry pieces in the "Albert Room" where he had passed away. Queen Victoria not only modernized charm motifs, she made them an "in vogue" jewelry item during the Industrial Revolution, which saw an increase in access of high-end commodities to women from diverse economic demographics. Queen Victoria literally wore her heart on her sleeve, modernizing jewelry's purpose, since it began to display intimate parts of who a person was and what was important to them.
Expensive Brands and the Onset of Link Charm Bracelets

As referenced earlier, Tiffany and Co. is credited with creating a high-end charm bracelet that became an instant hit in the fashion world, beyond royalty and high society. This leads us into our first type of charm bracelet: link charm bracelets. Historically, high-end link bracelets have been crafted in silver or gold and the charms added and featured on the bracelet are soldered on. The process means the link is cut, the bail of the charm is slid on, and the cut link is soldered together again. Many jewelers consider this a classic, traditional and even a highly elegant way to style a charm bracelet because each charm has enough space to breath and be showcased from its counterparts. Each link is a designated space for a charm.

This style also allows for the bracelet to fall evenly around the wrist. It can also be a great alternative for differently sized wrists since the clasp can hook around any link. Additionally, if you're looking for a bracelet to be versatile, meaning you can mix and match brands depending on what catches your eye, a link bracelet is the way to go. We'll touch base on clip and slide-style charms, but classic link bracelets, since they are, quite literally, the traditional form of charm bracelets, allows people to purchase designs from an array of brands and, as long as they have a bail (the loop at the top of the charm) any jeweler can solder on the piece. Therefore, while a more tedious form to create a charm bracelet, it provides the most flexibility.

The early 20th century saw the birth of other major high-end brands, like Cartier and Boucheron, that also created beautifully-crafted charm bracelets. The rise in technology, in tandem with the Art Deco movement, allowed for these brands to take precious metals, like platinum, and gemstones, like diamonds, and fabricate impeccable pieces with advanced cutting machinery. These inventions and the art movement became the perfect environment for a variety of new charm styles to emerge. They became more whimsical and imaginative. Clients could purchase individual charms or have them custom-made, personalizing even further what jewelry brands offered for bracelets and jewelry in general. In the images included, some charms depicted are clocks, animals, trains, planes, and pens.
Pandora, Modern Brands and Charm Bracelets
Up until the 90s and early 21st century, the most worn charm bracelets continued to be link ones. Solid 18k gold and specifically Italian designer brands were the crème de la crème jewelry to own. Bvlgari is probably the most known brand since it continues to make red carpet appearances in celebrity events. As with the majority of major high-end brands, Bvlgari offers a beautiful selection of 18k gold link charm bracelets. From major to minor brands, link bracelets continued to dominate until Pandora Jewelry (1982) arrived. It would be unfair to state that Pandora did not, in several ways, reinvent the concept of charm bracelets and revolutionized jewelry as a whole. What we mentioned Queen Victoria achieved by setting charm bracelets as an in-vogue style for women across economic status, Pandora has done in the modern 21st century era. The onset of Pandora also birthed other completely new brands that sought to reach people looking to have cute and quality jewelry that was not as expensive as traditional retailers. Think of Alex and Ani (2004), Chamilia (2013), and Troll Beads (2019).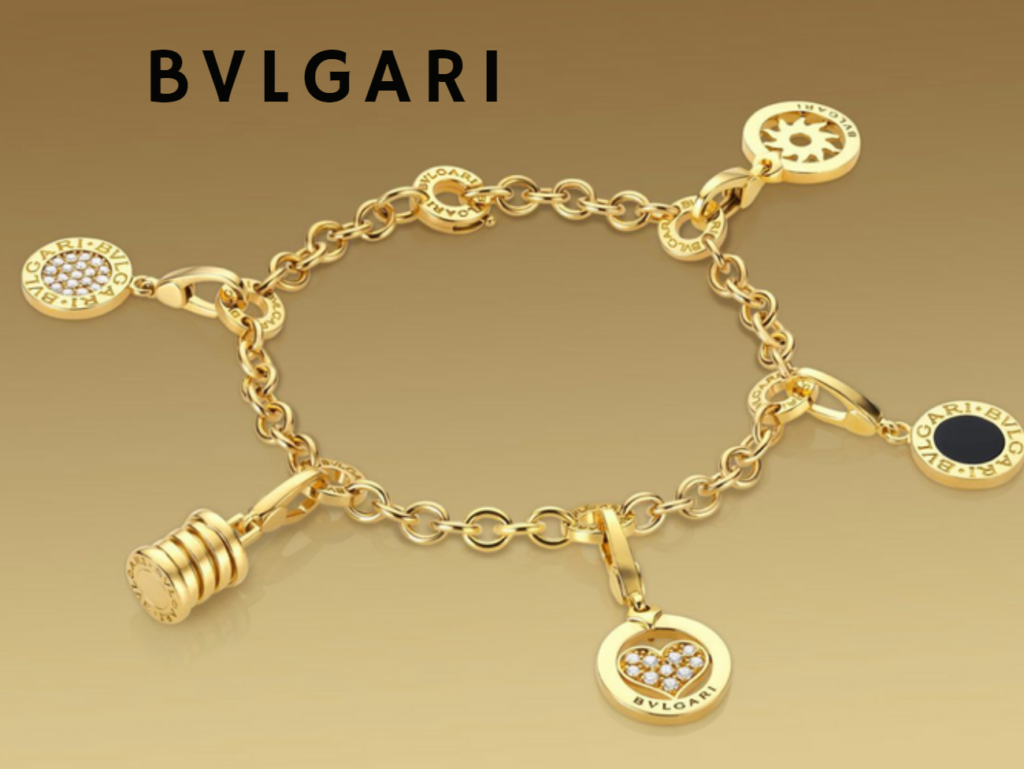 Not only did Pandora increase access to quality jewelry, it redefined the charm bracelet design, opting for an easier way to start collecting charms. The bracelet style is the slide-on model most bracelet lovers know of. Rather than having to go through the old-school process of soldering individual charms to links, Pandora created a solid, cylindrical band to slide on the charms, predominantly working in sterling silver .925 and gold plated jewelry (although they offer solid gold options as well). The boom Pandora has had was galvanized by clients reinvigorated by the long-standing tradition of creating personalized stories on bracelets and necklaces.
Whether they were actually the first to invent the slide-on model is irrelevant, because the jewelry brand definitely popularized it into a global sensation. So much so that, as mentioned above, new brands have surged with similar concepts and large to small jewelry retailers have incorporated designs to fit Pandora bracelets. The alternative is still tied to the concept, meaning brands like Brighton and Kay Jewelers also have their line of charms for bracelets, but have made them a different size in order to maintain brand exclusivity. Nonetheless, the premise of their designs piggybacks off of Pandora's concept.
As Pandora expands, the brand continues to revitalize the concept of charm bracelets. A new style is the "clip-on" charms, that, like key chains, contain a bail that opens, clasps to the link of the bracelet, and then closes. This is another way Pandora has managed to offer another option that does not involve condemning a piece to a link. It is a great spin on a classic link charm bracelet, but with the versatility of the slide-on designs. The visual effect will be more elegant, and yet there's the flexibility of changing charms at convenience and style preference. Now, even with these options, Pandora also offers classic link charm bracelets. I will be bold to argue that even this innovative brand understands that a characteristic of permanence in jewelry elevates quality and design. I will further argue this is because of the added craftsmanship needed to personalize link charm bracelets. Furthermore, classic charms have a universality, meaning, not all jewelry brands have slide or clip-on charms, but most (if not all) jewelry stores have pendants to solder on your preferred bracelet.
Coquí el Original® "Charms" the Bracelet World
 As a 4th generation jeweler, I am incredibly proud to say that my family has lived through many of these shifts in jewelry trends. I come from a family business tradition that has its origins in 1920 Camagüey, Cuba and continues to thrive in Calle de la Fortaleza 200, Viejo San Juan, Puerto Rico. Up until my father, Natalio Barquet Perez, created Coquí el Original® in 2009, he worked exclusively in the high-end jewelry retail field. When thinking about the progress of charm bracelets, my father jokes "Daniela, you have no idea the amount of charms in silver, platinum, and gold I have sold, repaired, reworked, and reordered in my years." With Coquí el Original® I am fortunate to have my father's guidance.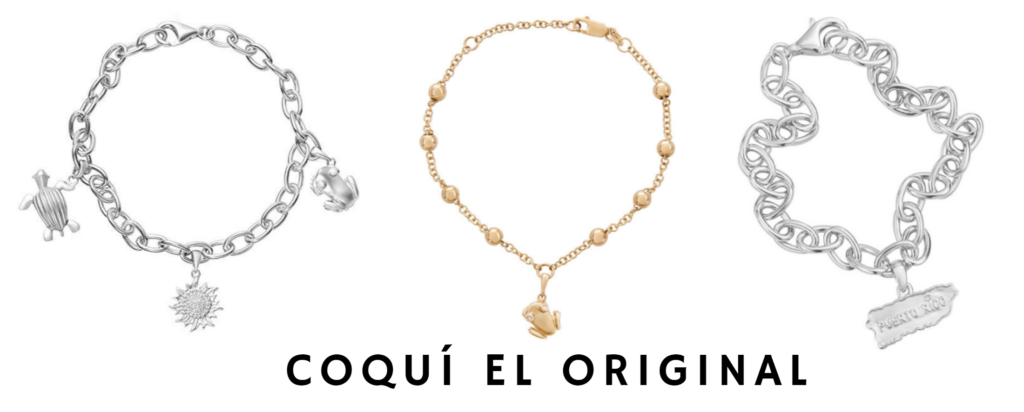 While we boast a full jewelry line, we work both classic link charm bracelets and individual charms. We offer all our individual charm designs from our five collections (Coquí, Sun, Leatherback Sea-turtle, Salsa Dancers, and Map/Flag) to be compatible with brands mentioned above: Pandora, Brighton, Kay Jewelers, Chamilia, Troll Beads, and other European-style bracelets. We craft these in either solid sterling silver .925 or solid 14k gold with diamond accents. In terms of our link bracelets, many clients start with one (like the Coquí Link Charm Bracelet) and, over time, continue to add some of our other designs.
Our desire is that, through our designs, clients immortalize characteristics and memories of Puerto Rico with their outstanding and unique jewelry. Much like Queen Victoria, socialites, and any jewelry-loving person, charm bracelets and necklaces are a perfect way to hyper-personalize events, memories, travel, occasions, successes, losses, love, and almost anything you can think of. With Coquí el Original®, we hope to be that choice when thinking of luxury jewelry from Puerto Rico.
Salud y Éxito
Daniela Barquet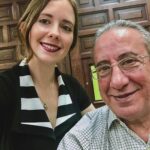 Daniela Barquet is the 4th generation owner of her family's jewelry store located in Old San Juan, Puerto Rico since 1965. The business tradition was started by her great-grandfather, Issac Barquet, in 1920. Daniela graduated from Boston University with a Bachelor's in the History of Art and Architecture and a Minor in Italian Studies. Daniela continues to grow under the mentorship of her father, Natalio Barquet Perez, who is a renowned, certified jeweler in Puerto Rico.