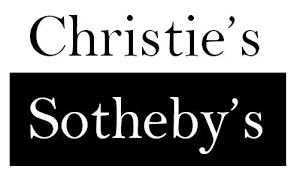 On Friday, November 19th, Sotheby's and Christie's closed their 2-week long sale series in New York City at a whopping $2.3 billion worth in art sold. A rare feat, the auction houses sold every art piece they offered. While, of course, an event like this is reserved for wealthy art aficionados that are able to afford such incredible pieces (like a Mark Rothk painting or a Frida Kahlo portrait), the event is still a testament to an unchanging fact: art transcends and, redundantly, will hold immense value forever (monetarily, historically, sentimentally, etc.). Based on this premise, however, art's value is not reserved for exorbitantly expensive and historically-significant pieces. Art is all around us! When thinking about pieces that will last for generations and that are or become family heirlooms, there is a range of categories under "art" that can be considered.
JEWELRY/CLOTHING/ACCESSORIES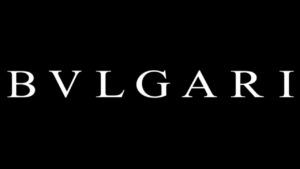 High-end and designer jewelry crafted from precious metals and gemstones is the first example of a typical family heirloom. In terms of face value, since precious metals like silver, gold, and platinum and precious gemstones like sapphires, rubies, emeralds, and diamonds, are considered rare, they will continue to have high liquidity (meaning if you are looking to sell, there is always a price). Beyond jewelry's precious materials being a simultaneous commodity and currency, the brand and design aspects of jewelry have also become an important characteristic of why this fashion accessory transcends.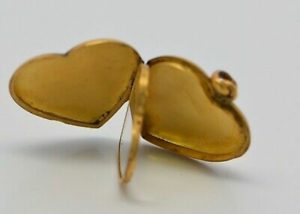 Think about incredibly high-end, big brand names like Tiffany and Co., Bvlgari, and Cartier. Just purchasing a "basic" Tiffany and Co' sterling silver .925 link bracelet starts at $1,500. This added value is a result of brands' names and reputations becoming just as important (or even more) as the market value of the material they work in. To exaggerate, but explain clearly, Cartier can hypothetically create a design in the base metal of stainless steel and, even though it is stainless steel, precisely because it is a Cartier design, it will hold more value than another stainless-steel piece from a lower-ranked jewelry retailer.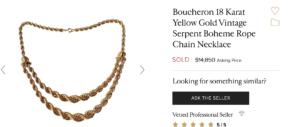 Beyond brands and their design exclusivity, there are jewelry heirlooms that hold incredible value and aren't from major brands. Think of lockets with family photographs inside, watches engraved with a special message from a loved one, or a quirky pair of cufflinks that used to be your great-grandfather's. In these instances, these heirlooms can either have a vague provenance or a specific family story. In either case, time is what has given the heirloom much significance, regardless of the manufacturer or designer is obscure or unknown. Many of these heirlooms, beyond being crafted from precious materials, also tend to hold much sentimental value. To explain further, you may purchase a pair of incredibly-designed Buccellati drop earrings today, but that 1 carat, single cut diamond passed down to you from your great, great grandmother might not be from a brand, but is definitely a spectacular heirloom. Of course, both of these concepts intersect. For example, if you are the proud owner of a 3rd generation family Boucheron necklace. This last example is the ultimate combination and what is achieved with high-end jewelry you buy today for future family generations.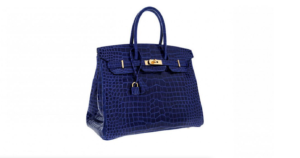 The same concept is applied when speaking of designer clothing and accessories, specifically purses. These items become heirlooms when they have either been worn for 50 years or will be worn for 50 years. The slight distinction to make with clothing and accessories is that these categories are tightly tied to the brand. For example, a limited-edition Jane Birkin, Hermès bag or beautiful 60-year-old Louis Vuitton winter coat are incredibly valuable because they are designer brands. In other words, non-high-end branded clothes and accessories will simply not hold the same value over time. An 18k yellow gold band ring will, alternatively, have more value than a pleather purse from a lower-end retailer because, as mentioned before, gold will always have a market price. Nonetheless, you can have a beautifully-hand-made wallet acquired over 50 years ago and passed down in the family that can, indeed, be an heirloom. While sentimentality is a key factor when considering items that become family heirlooms, it is important to emphasize that the principal characteristics are value, brand, quality, and the "unique" and "time" factors (whether from the past or for the future).
HOME DÉCOR ARTWORKS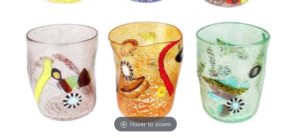 Diving deeper into what is the "unique factor" referenced above, there are quintessential art forms from different regions around the world that can make for great heirlooms. Think of Murano glass from Venice, Italy. While there's much confusion surrounding Murano glass (since many inauthentic items are marketed as Murano) what makes this glass art form so unique are very specific characteristics. The glassware is made by hand, on Murano Island in Venice, Italy and it is made from a specific ancient technique and recipe that has been passed down from generation to generation. There is even a consortium of Murano Glass companies that requires factories to be on Murano Island. Companies not producing Murano on the island are not considered authentic Murano glass.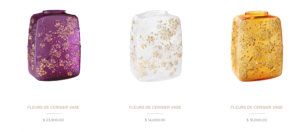 Moving from Italy to France, an incredibly high-end brand with items that are quintessential heirlooms to own is Lalique. The glass-making brand has an incredible historical tradition that spans back to the late 19th century with the talented artist Renè Lalique. Renè started as a master jeweler and later transitioned into an Art Deco master glass maker. The glassmaker also leveraged the Industrial Revolution to continue producing his beautiful designs on a larger scale. In 1922, Renè founded Verrerie d'Alsace glassworks at Wingen-sur-Moder in Alsace, at the heart of a region with a strong and historic glassmaking tradition. This is now the world's only Lalique factory. Lalique continues to be a major world-renown luxury brand dedicated to creating jewelry, homeware, perfumes, and sculptural art.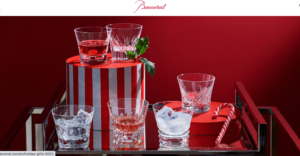 Another high-end glass-making brand with items and artworks that transcend is Baccarat, also spanning back to 19th century France. Baccarat is especially appealing for business owners looking to heighten their spaces with beautiful decorative pieces. From small, table decorations to luxurious chandeliers, for over a century Baccarat has dressed some of the most renowned commercial spaces, like restaurants and hotels, and private residences, like homes, yachts and jets. It is obvious to state that if you have a Baccarat piece adorning your home, it is an heirloom.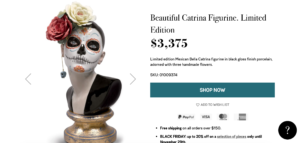 From Italy to France and now Spain, Lladró is a high-end porcelain-making brand that has its origins in the mid-20th century. In 1953, three brothers, Juan, José, and Vicente Lladró, started creating their own plates, vases, and ceramic figures. After opening their first store in Valencia at the end of the decade, Lladró became an international sensation for its unique designs and advanced firing techniques for porcelain. The business now boasts over 1,500 stores all around the world.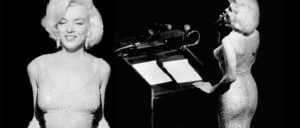 The last example for this section is Swarovski. In 1862, Daniel Swarovski was born in Bohemia (Czech Republic) to a family that owned a crystal-cutting company. Historically, this region has a rich history of crystal craftsmanship. In 1883, Daniel formed a jewelry company and by 1886 they had over 70 employees. They even supplied jewelry for Queen Victoria, a fashionista and trendsetter for her time. In 1891, Daniel registered a patent for the crystal cutting machine that he created and in 1895 moved from Bohemia to Wattens, Austria to begin crystal production. This is why Austria is the official home of Swarovski jewelry and specialization in crystal-work miniature sculptures. Over the years and especially after WWII, there was a fashion boom and different designers and artists, such as Coco Chanel, Christian Dior, and Marilyn Monroe, collaborated with Daniel Swarovski. In summation, all these brands have a rich history, dedication to impeccable quality, and foundation in art movements and designs that make for incredible family heirlooms.
PAINTINGS/SCULPTURES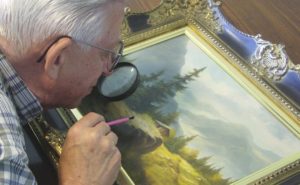 This particular category can become very complex. In an obvious sense, any painting already considered to have historical significance, is an heirloom if privately owned. Added to this is the incredible amount of renowned artists all around the world that produce what are deemed by experts as high-ticket items. Therefore, when it comes to art pieces that aren't necessarily from a "trending" artist, these still can hold an emotive meaning that transforms the piece into an heirloom They can hold memories of a trip, life achievement, or significant experience. Maybe they were even created by a talented family member and then kept in the family. If so, it would be a fun task to have an expert appraise the creations and see if there exists any added value.
FURNITURE

Furniture is also a tricky art form. Currently, the boom in designer furniture can be an overwhelming experience when deciding what purchase can become a family heirloom in the future due to the volatility of trending materials and designs. What is, however, unchanging, is how handcrafted, wooden furniture considered to be antique (at least 100 years old) are incredible pieces to keep in the family. Craftsmanship of the early 20th century can include furniture with leather coverings, gold inlays, and bronze finishes that are attractive to collectors and museums.
LAST NOTES
As a 4th generation jeweler, I am incredibly biased to argue that jewelry is probably the best heirloom. There's an added "share-ability" aspect that is not achieved with homeware, furniture, paintings, and sculpture that typically stay in one spot for a lengthy period of time. Additionally, the precious metals and gems ensure jewelry will retain value, even if they are unbranded items. Meaning, while clothing and purses can also be shared, the material and design might lose appeal over time, unless it is a very high-end, limited edition piece from a designer brand. If we wish to remove the monetary aspect, almost anything can become a family heirloom if it holds a strong sentimental value for the family.
Salud y Éxito
Daniela Barquet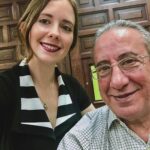 Daniela Barquet is the 4th generation owner of her family's jewelry store located in Old San Juan, Puerto Rico since 1965. The business tradition was started by her great-grandfather, Issac Barquet, in 1920. Daniela graduated from Boston University with a Bachelor's in the History of Art and Architecture and a Minor in Italian Studies. Daniela continues to grow under the mentorship of her father, Natalio Barquet Perez, who is a renowned, certified jeweler in Puerto Rico.