For the best quality frog jewelry, and jewelry overall, experts will always recommend precious metals and gems when thinking about added value and the ability to withstand corrosion. Specifically, high grade metals like sterling silver .925, platinum 950, 14k and 18k gold are preferred in jewelry craftsmanship. If you want to learn more about how to tell jewelry is high quality then click here: https://coquieloriginal.com/how-to-tell-if-jewelry-is-high-quality/. If you're here because you fit into the niche community of frog jewelry lovers, this blog will present some of the best items there are in the jewelry industry to purchase a high-quality frog jewelry piece.
Symbolism of Frog Jewelry
As with many other animals around the globe, frogs have come to have different meanings among a diverse set of cultures across ancient and modern history. An overarching theme is that frogs symbolize fertility, wealth, and abundance. From Native Americans, to Egyptians, to Medieval England, and more, frogs have been depicted in art and used in jewelry. Jewelry pieces and totems became powerful items that served different purposes such as protecting you from loss (even loss of money), providing you knowledge and power, and assistance with fertility. In modern societies, frog symbols in jewelry are also linked to good luck and even finding love! Whichever the case, for their symbolism or because you just love the animal, here are the top frog jewelry designs and brands.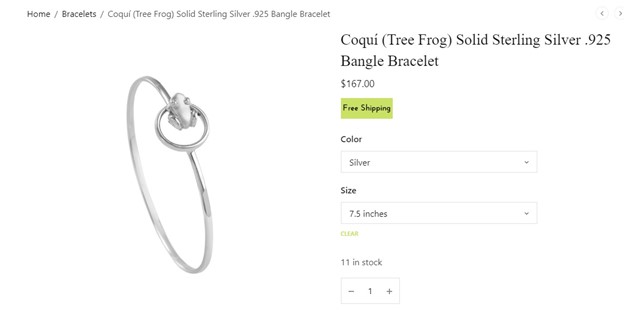 Frog Bangle Bracelet
This beautiful frog bracelet is crafted from solid sterling silver .925 and is available at 7.5 and 8.5 inches. This frog bangle design is by Coquí el Original®, a high-end jewelry store located in San Juan Puerto Rico. Their main Collection, the Coquí Frog, focuses on this endemic creature that signs "ko-kee" overnight from dusk until dawn. The coquí tree frog is a powerful cultural symbol in Puerto Rico. This frog bracelet is also available in a vermeil of yellow and rose gold.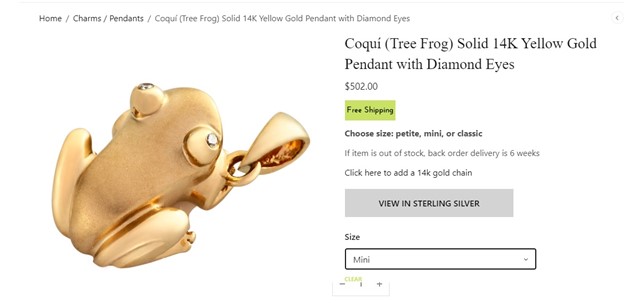 Frog Pendant and Charm in 14k Gold
This item is also from the exclusive Coquí el Original® line. Crafted from solid 14k gold, this frog pendant is detailed with genuine diamond eyes. The charm is available in 3 sizes: petite, mini, and classic. This exquisite item is finished with a matte body and has polished legs to provide a beautiful contrast in the frog design. The frog pendant can be placed on your preferred chain length or, as a frog charm, soldered onto your bracelet. The high-end frog collection was created and designed by Natalio Barquet, a 3rd generation jeweler in Old San Juan.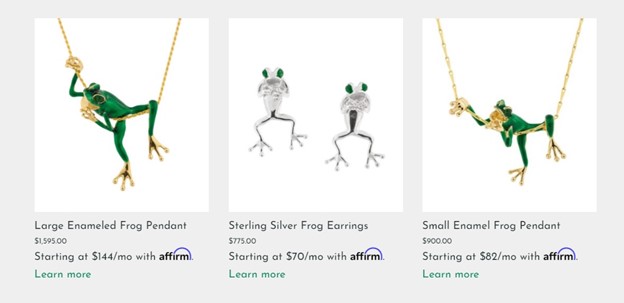 Enamel Frog Pendants
These sterling silver and 14k gold frog pendants with emerald eyes are part of Emeralds International's line of designer items. Emeralds International was founded by Manuel Marcial de Gomar, who's had a passion for jewelry, mainly emeralds, since he was 19 years old. These cute frog designs are hyper realistic, since the amphibians are posed in frog-like positions with elongated hands and legs. The frog design seems to smile at you as well! This pendant is a great idea for those jewelry wearers that enjoy animal designs that are near true to life instead of hyper-stylized.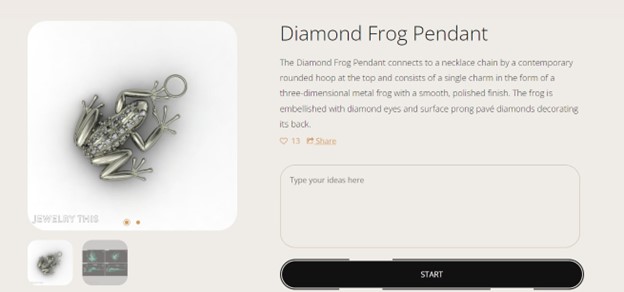 Custom-Made Frog Jewelry
This is a jewelry designing and manufacturing company located in San Diego, California. As a client, you collaborate with them to have your jewelry item(s) idea become reality. The above example shows a frog charm crafted in metal and finished with diamonds in a pavé setting. Their online catalog shows numerous examples of designs created for clients from which you can also draw inspiration and make a custom order. The jewelers go through the process of rendering your ideas in a 3D digital format and then proceed with the physical craft of the item. This is a great option to make self-expression the forefront of wearing jewelry.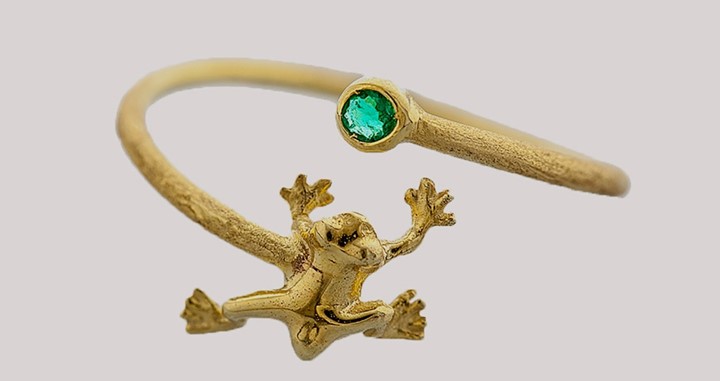 Frog Ring in 18k Gold
This cute frog ring with a 2.5mm emerald was designed and crafted by Peruvian jeweler, Lorena Pestana. Her works, highlighting animals and nature, are exquisitely petite and minimalistic. The way she finishes her pieces also gives off an ancient allure and aura to them. This artist has her atelier in Lima, but you can purchase many of her jewelry pieces in her online store. In her "Amor Animal" Collection, Lorena features a frog pendant and frog earrings as well.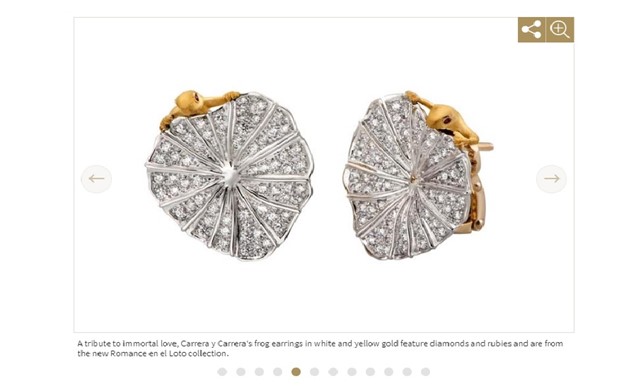 High End Jewelry Frog Earrings
If you are a very high-end client for jewelry items, these Carrera y Carrera frog earrings would be an exceptional addition to your jewelry collection or as a gift for a loved one. These stud earrings look exquisite, as the lotus leaf is crafted from white gold and finished with pavé diamonds. Atop the leaf design are mirroring frogs in yellow gold. The "Romance en el Loto" features the frog and lotus leaf design in rings and pendants as well.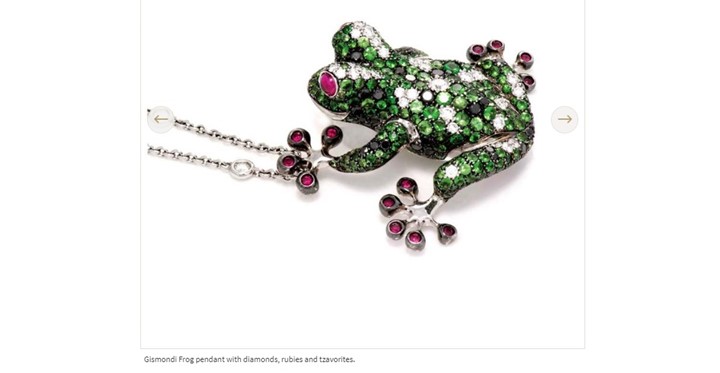 High End Jewelry Frog Pendant
As the image above notes, this high jewelry Gismondi Frog Pendant is covered in diamonds, rubies, and tzavorites. As with most exquisite designer jewelry, the Gismondi family and brand go back to 17th century Italy. Naturally, Gismondi is part of the selection of very high-end jewelry brands that originated in Italy and are still considered the masters in design and craftsmanship. This item can be a great piece for jewelry collectors and aficionados.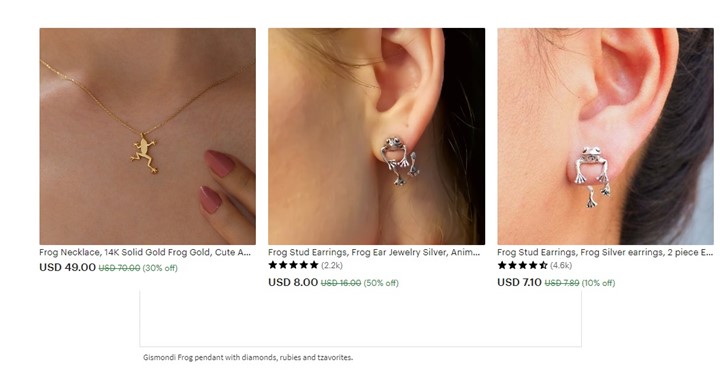 Final Notes
While frog jewelry is certainly a specific predilection, frogs have been a motif in art for centuries, making the animal a staple design in collections by renown jewelers and brands around the world. This blog covered various high end jewelry designers and brands with frog jewelry items and collections. If you're looking for more affordably priced frog jewelry, places like Amazon and Etsy are great online shopping sites to get diverse price ranges.
¡Salud y Éxito!
Daniela Barquet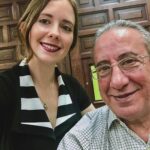 Daniela Barquet is the 4th generation owner of her family's jewelry store located in Old San Juan, Puerto Rico since 1965. The business tradition was started by her great-grandfather, Issac Barquet, in 1920. Daniela graduated from Boston University with a Bachelor's in the History of Art and Architecture and a Minor in Italian Studies. Daniela continues to grow under the mentorship of her father, Natalio Barquet Perez, who is a renowned, certified jeweler in Puerto Rico.