Puerto Rico has attracted visitors from all over the world for its natural and cultural beauty. The Caribbean Island offers clear waters with white sandy beaches, rivers and waterfalls surrounded by lush vegetation, and a central mountain range with gorgeous views. In addition to magnificent eco-tourism spots, Old San Juan is the historic center of Puerto Rico where you can walk and visit quaint local shops and restaurants amid beautiful Spanish architecture and fortifications.
This blog will cover how to experience the many wonders of Puerto Rico if you're looking for an elevated, luxury-style of travel. Additionally, some exclusive and hidden gem "spots" will be covered from culinary to lodging, to shopping locations.
Boutique and Luxury Hotels in Puerto Rico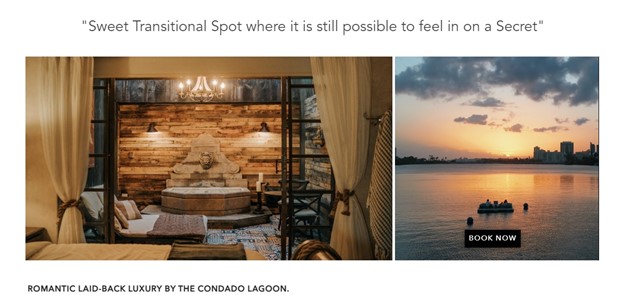 1) O:live Boutique Hotel and O:LV Fifty Five
These sister hotels, located across from each other, are part of the Small Luxury Hotels of the World community. For a more rustic vibe, O:live Boutique is the perfect balance of cozy and luxurious. For a modern luxury vibe, O:LV is the pick. Both hotels offer beautiful rooftop bars and top culinary experiences.
A must while staying at either of these boutique hotels is the "Floating Champagne Decks" experience on the Condado Lagoon with bubbly and food provided. The perfect romantic date can be the sunset time slot. The hotels also have private cabana areas and pools with stunning views you can reserve. They also offer curated tours of Puerto Rico's most popular tourist destinations like Old San Juan, "El Yunque" (rainforest), and Culebra Island off the East coast of the mainland.

2) Ritz Carlton, Dorado
Located just a 40-minute drive from the metro area is the municipality of Dorado, home to the luxurious 5- star Ritz Carlton Hotel. The Dorado Beach Ritz Carlton is the utmost luxury travel experience in Puerto Rico. The high-end resort has a beautiful beachfront and includes leisure and recreation areas. The resort is its own little world with different pool areas, a beach club, golf courses, spa, nature trails, tennis courts, fitness center and much more!
As for experiences, they offer snorkeling, sailing, paddle boarding, and kayaking. The Dorado Beach Ritz Carlton is the eminence of luxury travel in Puerto Rico. So much so that Boricua celebrities like Lin Manuel Miranda and Ricky Martin stay there when they visit the island.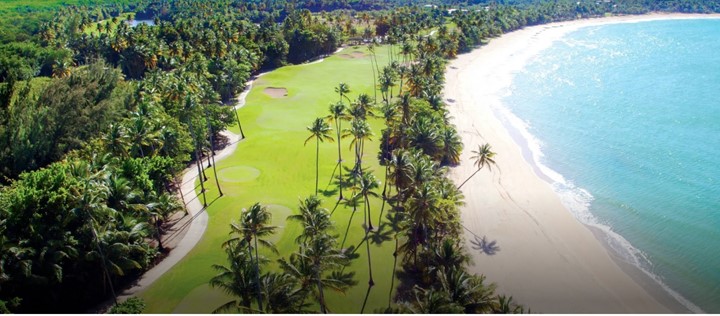 3) St. Regis Bahía Beach Resort, Río Grande
The St. Regis Bahia Beach Resort is a luxury resort located on the northeastern coast of Puerto Rico. The resort features 139 guest rooms, including 35 suites and 25 private villas, all of which offer ocean or garden views and luxurious amenities. The resort is set on 483 acres of lush, tropical grounds and offers a range of activities for guests, including golfing on the Robert Trent Jones Jr. designed course, kayaking and paddleboarding in the surrounding canals, and relaxing on the private beach.
Dining options at the St. Regis Bahia Beach Resort include the signature restaurant, Fern, which offers farm-to-table cuisine inspired by the local ingredients and flavors of Puerto Rico, and the beachfront Seagrapes, which serves up fresh seafood and tropical cocktails. The resort also offers a range of luxurious amenities, including a full- service spa, a fitness center, and an infinity-edge pool overlooking the ocean.
For weddings and events, the St. Regis Bahia Beach Resort offers multiple indoor and outdoor venues, including a grand ballroom and a stunning beachfront location. Overall, the St. Regis Bahia Beach Resort is a top luxury resort in Puerto Rico, offering guests a secluded and serene getaway with world-class amenities and breathtaking natural beauty.
Luxury Dinning in Puerto Rico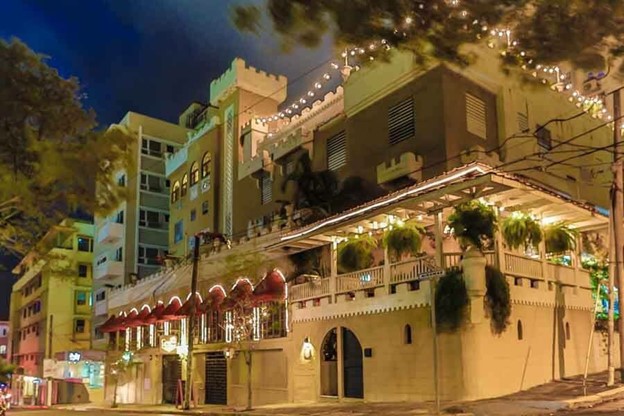 1) Cuarto 16, Miramar
Cuarto 16 is the exclusive rooftop of the well-known Casita Miramar restaurant. Casita Miramar is both a local and tourist favorite for serving delicious and authentic Puerto Rican plates. Not long ago they opened a terrace area with their own cocktail bar.
With limited amount of seating, Cuarto 16 is usually booked, so make sure to call in advance and reserve if you'd like Casita Miramar's rooftop experience.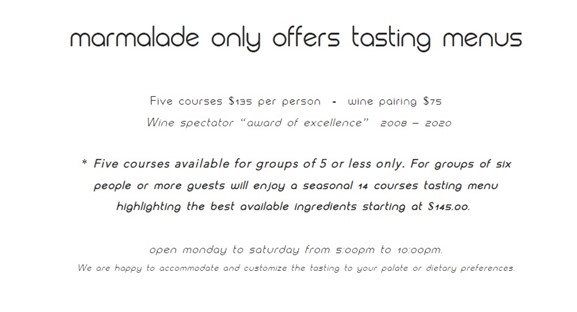 2) Marmalade, Old San Juan
As the Dorado Ritz Carlton is the top luxury hotel experience on the island, so is Marmalade for an elevated culinary experience. As with most fine dining experiences, as a consumer you must be ready for both familiar and unfamiliar flavors. That's part of the excitement when visiting Marmalade and choosing their curated menus.
As an award-winning wine pairing restaurant that has been in Old San Juan for over 15 years, it is still a favorite culinary experience for both local and tourist foodies who enjoy fine dining.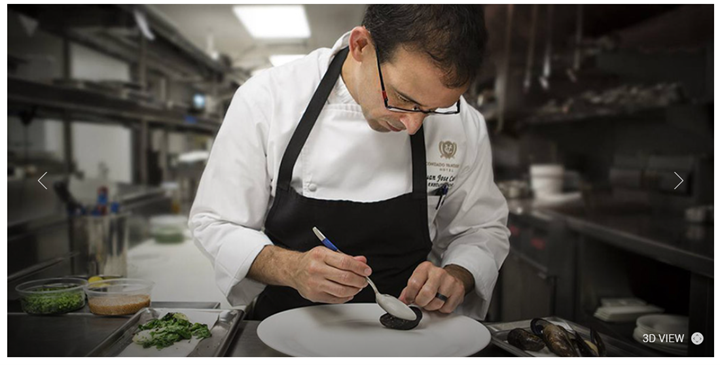 3) 1919, Hotel Vanderbilt
The 1919 restaurant is located within the Condado Vanderbilt Hotel in San Juan, Puerto Rico. The restaurant is named after the year the hotel was built and offers a contemporary take on classic cuisine. The menu features locally sourced ingredients and fresh seafood, along with an extensive wine list and creative cocktails. The restaurant is open for breakfast, lunch, and dinner, with a range of options for each meal.
Some popular dishes include the lobster risotto, the seared tuna with avocado, and the grill ed octopus. The restaurant also offers a tasting menu with multiple courses that showcase the best of the kitchen's offerings. The atmosphere of the restaurant is elegant and sophisticated, with modern décor and stunning ocean views. The dress code is smart casual, and reservations are recommended. The 1919 restaurant is a popular dining destination in San Juan and is a great choice for a special occasion or a romantic night out.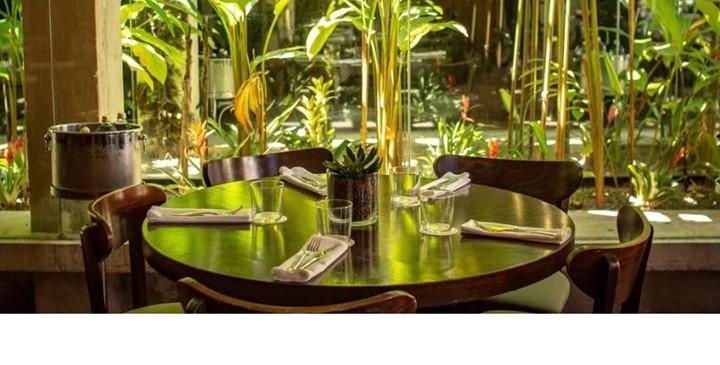 4) Santaella, Santurce
Santaella Restaurant is a popular dining destination located in the Santurce neighborhood of San Juan, Puerto Rico. The restaurant offers a contemporary take on Puerto Rican cuisine and is known for its creative dishes, stylish décor, and vibrant atmosphere. The menu at Santaella features a variety of dishes that highlight loca ingredients and flavors.
Some popular dishes include the crispy pork belly with guava barbecue sauce, the octopus with squid ink rice and chorizo aioli, and the churrasco steak with chimichurri sauce. The restaurant also offers a range of cocktails and an extensive wine list. The atmosphere of Santaella is chic and modern, with colorful artwork, a beautiful bar area, and an outdoor patio. The restaurant is popular with locals and tourists alike, and reservations are recommended. Whether you're looking for a special night out or a casual dinner with friends, Santaella is a great choice for anyone looking to experience the flavors of Puerto Rico in a stylish setting.

Luxury & High End Shopping in Puerto Rico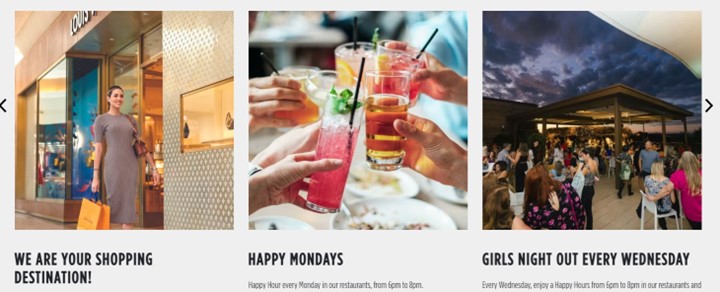 1) The Mall of San Juan
The Mall of San Juan is a premier shopping destination located in the San Juan metropolitan area of Puerto Rico. The mall features over 100 stores, including high-end luxury brands such as Louis Vuitton, Bvlgari, and Versace, as well as popular retailers such as H&M, Zara, and Apple. In addition to its shopping options, the Mall of San Juan offers a range of dining options, including a beautiful rooftop area with a food market offering pasta, burgers, meat and fish plates, pastries, and much more!
The mall also features a range of amenities for visitors, including a full-service concierge, valet parking, and a children's play area. The mall is known for its upscale and modern design, with features such as a grand atrium, natural light, and high- end finishes. Overall, the Mall of San Juan is a top shopping destination in Puerto Rico, offering visitors a mix of high-end luxury brands and popular retailers, as well as a range of dining and entertainment options in a stylish and sophisticated setting.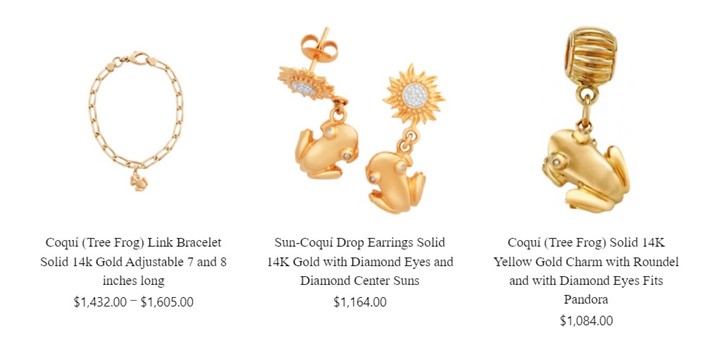 2) Coquí el Original®, Old San Juan
This high-end jewelry brand was created by renown jeweler, Natalio Barquet Jr., in 2009. The store and brand, located in 200 Fortaleza Street in Old San Juan, offers curated collections dedicated to Puerto Rico's natural and cultural beauty. Since the items are crafted from solid 14k gold and sterling silver .925, the jewelry store is a place to purchase upscale jewelry pieces that are designed in Puerto Rico and unique to the island. Additionally, the store is currently owned by his daughter, Daniela Barquet, who is the 4 th generation CEO of Barquet Jewelers, a family company that dates to 1920 in Cuba and was reestablished in 1965 in Old San Juan. While a small, father-daughter business, it is the perfect location to buy fine and beautifully crafted jewelry pieces exclusive to their name brand.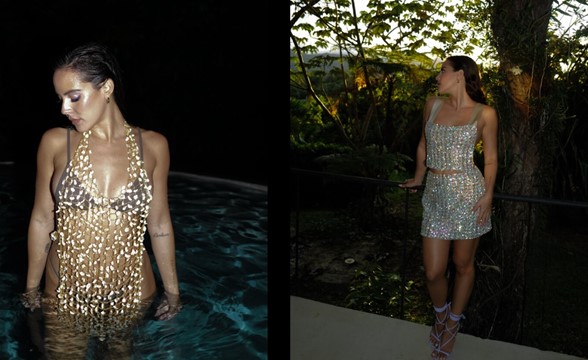 3) Ecliptica, Miramar
The high-end, luxury clothing brand is designed by two extremely talented Puerto Rican sisters: Norein and Michelle Otero. Within Ecliptica they have 3 lines: Atelier, Bridal, and ISLA. Atelier is a bombshell collectio with seasonal designs that focus on trendy and high-end formalwear. You can spot many Puerto Rican and other Latin American artists wearing Atelier at Red Carpet events and exclusive parties. The Atelier collections are beautiful statement pieces with innovative designs. They offer a variety of clothing options, including casual wear, formal wear, and accessories. Ecliptica is known for its high-quality fabrics and attention to detail. The store also offers custom design services for clients who want a personalized and one-of-a-kind piece. Overall, Ecliptica Miramar is a popular shopping destination for fashion-conscious individuals in Puerto Rico.
Final Notes
Puerto Rico is a small, yet diverse island where you can find all types of experiences ranging from casual to very high end. If you are indeed a luxury traveler, this blog lists top culinary, lodging, and shopping destinations in Puerto Rico. If you're looking for a very local experience, you can read "Best Places to Salsa Dance in Puerto Rico" for authentic hangout spots.
¡Salud y Éxito!
Daniela Barquet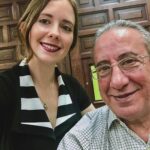 Daniela Barquet is the 4th generation owner of her family's jewelry store located in Old San Juan, Puerto Rico since 1965. The business tradition was started by her great-grandfather, Issac Barquet, in 1920. Daniela graduated from Boston University with a Bachelor's in the History of Art and Architecture and a Minor in Italian Studies. Daniela continues to grow under the mentorship of her father, Natalio Barquet Perez, who is a renowned, certified jeweler in Puerto Rico.