Salsa music and dancing are a major part of Puerto Rico's history and culture. Salsa music is said to have its origins in Cuba, Puerto Rico, and New York. These places were music hubs experimenting on Afro-Caribbean beats and sounds that then created the genre of salsa, exploding in popularity during the 70s. Artists like Celia Cruz, Hector Lavoe, Willie Colon (and much more) were storming the world with their orchestras, music, and voices. The instrumentalism and lyricism of salsa creates music that is dynamic and extremely fun to dance to.
Here are some of the best places to go to in Puerto Rico for salsa dancing.   

Delavida
De la Vida is a great bar and salsa dancing place to go to on Thursdays and Sundays. They have a live band that plays starting from around 9:30 until 11:00/12:00. What makes De la Vida unique is that it is located in the famous "La Placita de Santurce."La Placita is popular for both locals and tourists since it is a plaza area with many bars, restaurants and dancing places to go to. Therefore, you can stop by De la Vida then continue your night exploring other cool, local businesses.

Piso Viejo
Piso Viejo is also a great spot to go salsa dancing especially for the younger crowd. Piso Viejo is located in the famous "Calle Loíza" in San Juan, also known for food, bars, and overall, a great hangout area. What is fun about Piso Viejo is that they mix the music up. You get a set of salsa, bachata, reggaeton, pop, and other varieties of music mixed into the night with a live band and dj playing.

Essence Dance Academy
If you're staying in Puerto Rico for a while and you're looking to learn or better your skills at salsa dancing, Essence Dance Academy is great! They have a range of teachers and skill levels catering to your interests and needs. What makes Essence Dance Academy unique is that they host nightly social dancing sessions for students to be able to put their skills to work! These social dancing sessions are usually right after the last class of the night, so they start around 9/10pm.

La Factoría
La Factoría is one of the most popular bars in Old San Juan to go to any night, but mainly on the weekends. What makes it unique is not only that it is in the historic center of Puerto Rico, but also the bar is like a maze of bars comprised of 5 different spaces. The third space is where you can head into to salsa dance with locals and tourists. Other spaces include a place to order food, a house music area, and other more chill spaces to drink and chat.

El Hotel San Juan
For a more high-end experience, the Hotel San Juan located in Carolina has a beautiful lounge and reception area with a gorgeous central bar where they host salsa dancing nights. The unique part of this experience is they contract professional dancers to also give short performances of their amazing salsa dancing skills. If you're interested in viewing a showing, make sure to call and ask if they will be hosting professional dancers on their salsa dancing nights.

 El Boricua
El Boricua, locally called "El Bori" for short, is a great low-key and extremely local place to go have drinks and dance to salsa, bomba, merengue, and plena music. Not only is "El Bori" in the university center of San Juan, making it a youthful and lively area to visit, it is also a place that openly and consistently celebrates Puerto Rico's Afro-Caribbean culture and history.

Distrito T-Mobil
A fairly new attraction in the metro area of Puerto Rico is the T-Mobil District, a massive multi-purpose building that has restaurants, ziplines, and a music hall. The district usually has live music and salsa dancing nights. The modern, architectural project makes the space a unique place to visit.

Dos Republic
Last but, not least is Dos Republic. This salsa dancing venue is a great place to visit for a truly authentic experience since it is located in Bayamon, an area not often visited by tourists. But if you're a salsa lover, you'll enjoy Dos Republic. It is also a great venue to plan activities since it offers food and drink options as well.
While these are some great places to visit for salsa dancing, really all over the island, from small to large bars and venues, you'll hear one of our most beloved music genres playing throughout the night.
¡Salud y Éxito!
Daniela Barquet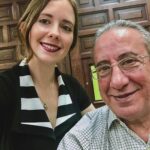 Daniela Barquet is the 4th generation owner of her family's jewelry store located in Old San Juan, Puerto Rico since 1965. The business tradition was started by her great-grandfather, Issac Barquet, in 1920. Daniela graduated from Boston University with a Bachelor's in the History of Art and Architecture and a Minor in Italian Studies. Daniela continues to grow under the mentorship of her father, Natalio Barquet Perez, who is a renowned, certified jeweler in Puerto Rico.