If you find yourself thinking you'd like to shop from authentic brands in Puerto Rico to treat yourself or as a gift for the holiday season, you don't have to wait to travel to the island. Popular brands in Puerto Rico offer online orders and shipping within the island and to the states. This blog will cover a range of local brands with different price ranges you can order online from. These brands can make unique or trendy gift ideas to give your loved one.
Index of online stores in Puerto Rico:
Ecliptica Atelier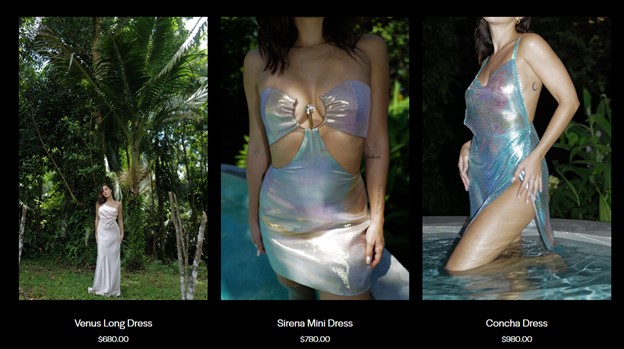 While the dynamic woman duo for fine, designer clothing has made their mark for years offering gorgeous and high-end designs, they are currently trending in Puerto Rico. The local fashion brand (Norein and Michelle Otero- owners and designers) recently collaborated with Gabriela Berlingeri (local model and entrepreneur) and produced a beautiful new collection of formalwear that's both edgy in design and elegant. The collection offers a series of tops, short and long skirts, bras, and trousers in a gorgeous iridescent palette of colors and sequence fabric, playing with an elevated beach vibe. Adding to this, some designs come with a seashell motif harkening to a Caribbean lifestyle yet rendered glamorously, perfect for this upcoming festive season. If you're a lover of attractive, chic, modern, eccentric yet stylish formalwear, this brand is for you or your favorite fashionista friend!
Sandía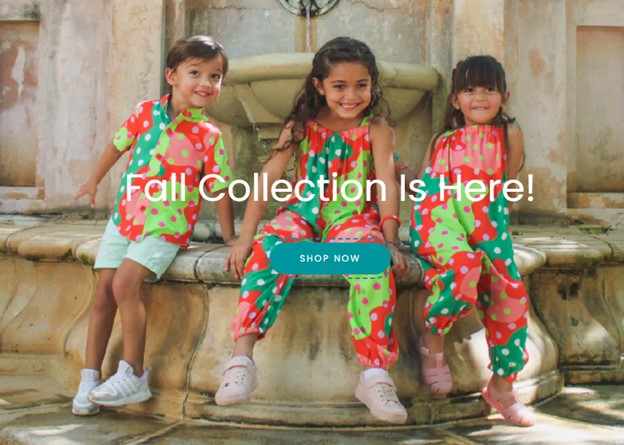 We can't forget our beloved little ones on special occasions and holidays! This local brand is owned by duo Anna Hernández and Annabelle Vélez. All pieces are handmade by these talented designers. What makes this local Puerto Rico brand unique is that their colors and patterns part from traditional baby clothing in favor of cute, modern, funky styles. Shop shirts, dresses, jumpers, rompers shorts and pants. They also offer cute accessories, like bandanas, to pair with your choice of clothing. The designers also offer a section for parents! Can we say cute family pictures? If you're all about matching with your little ones, checkout those sections and order your set today.
Qi-Qí

Founded in 2018, Qo-Qí is a great brand to find clothing gifts from Puerto Rico for men. With its signature coquí design, this clothing brand offers semi-formalwear like polos and dress shirts in addition to more casual options like T-shirts and shorts for men and boys. Qo-qí also has a trendy section of caps, hoodies, sweatshirts, and graphic T-shirts to shop featuring either the island or the coquí. Items are offered in a range of colors typically attractive to men like black, red, blue, green, white, purple, among others. Their selection of swim trunks are also in cool geometric patterns or tropical-inspired designs like ocean waves. Even if you're going through the cold seasons, summer will always follow!
Coquí el Original®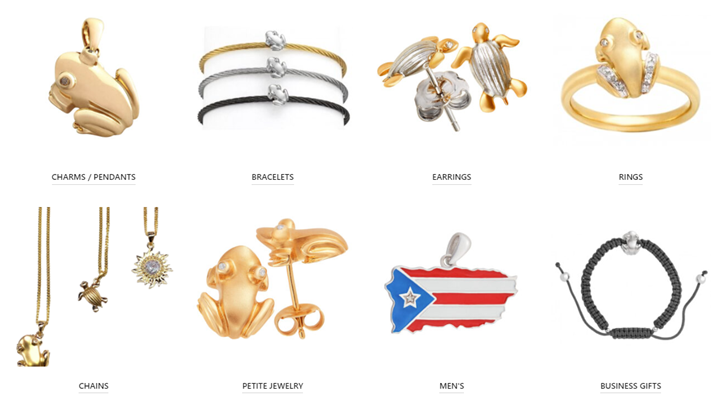 Since we are on the subject of Puerto Rico's cute and small, native tree frog that sings "ko-kee" every night, this jewelry brand offers impeccably-crafted items inspired by the coquí and other aspects of Puerto Rico. Crafted from either solid 14k gold or solid sterling silver .925 with genuine diamond details, the local brand situated at 200 Calle de la Fortaleza, Old San Juan offers pendants, charms, earrings, rings, bracelets, and cufflinks. Their collections are the Coqui Collection, the Leatherback Sea-Turtle Collection, the Sun, the Puerto Rico Map, and the Salsa Dancers. Browse and order online your favorite jewelry design. The officially registered brand always offers complimentary shipping.
Vaca Negra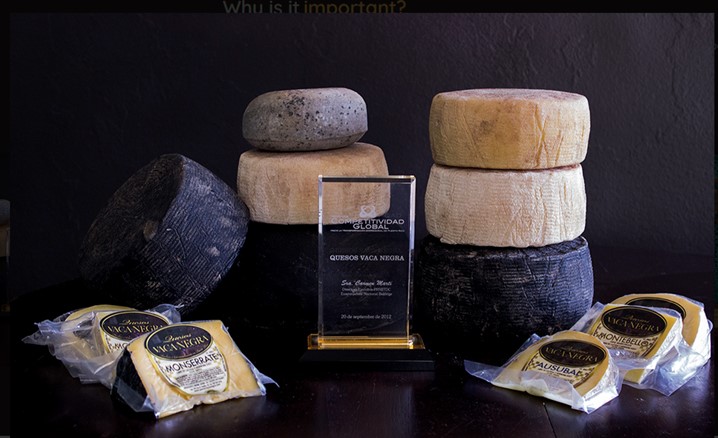 If you have a friend or family member that's a foodie, Puerto Rico's Vaca Negra can be the perfect gift idea. Vaca Negra was founded by Wanda Otero, a licensed microbiologist that turned to the business world in 2008 with her experimental cheeses. All of the brand's products are artisanal made from the best raw milk of the dairy farms in the region of Hatillo. The municipality is actually known as the dairy capital of Puerto Rico for the quality of its milk (and also because it is said to have a higher cow population than humans!). Vaca Negra has been flourishing ever since, being recognized locally and internationally. You can order their cheeses, butters, sweets, and yogurts online with shipping within Puerto Rico and to the states.
Concalma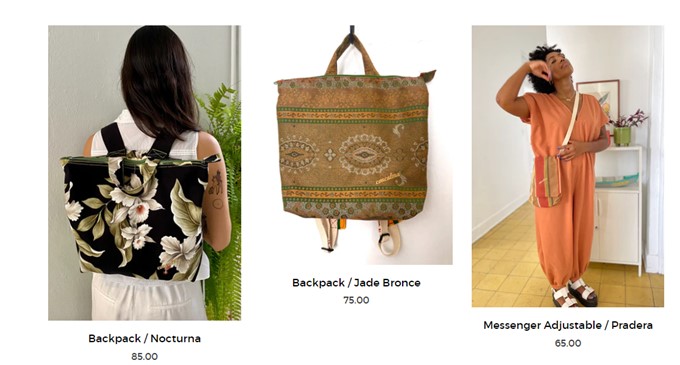 Concalma is an ethically-sourced and Puerto Rico-made brand that offers a very large variety of bags. Browse backpacks, baskets, beach bags, cargo, clutch, totes, pouches, pencil cases and more! Located in Utuado, Concalma bags are designed and manufactured in the "Cooperativa Industrial Creación de la Montaña." This co-operative was founded in 2002 and Concalma made it its home in 2006, with its brand's pillars being fair wages, healthy working conditions, and no child labor.
Luca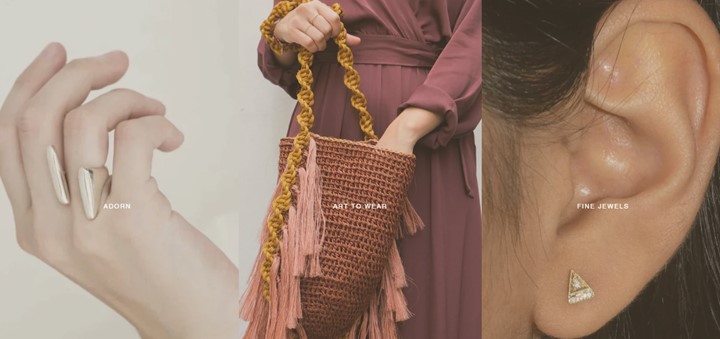 Luca is a lifestyle brand. You may say, what does that mean? Well the brand offers a uniquely curated selection of items from home décor to jewelry, apparel, oils, perfumes, and bags that it creates an overall life style and vibe. Definitely with Luca, there is a boho-chic element to the items the owner, Laura Lugo, selects. The brand's focus is "beautiful objects that stand the test of time." This is a great store for gift ideas for someone that has this type of "minimal with a statement piece" style in both their home décor and clothing.
Obed Gómez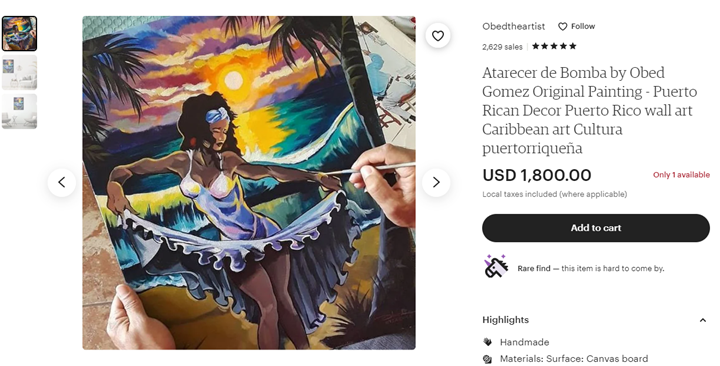 The Puerto Rican contemporary artist, Obde Gómez, is a very talented painter that showcases his pieces online via Etsy! As you can see above, his paintings focus on Boricua Afro-culture, like the dance of the Bomba, rendered in beautiful, vibrant oil painting colors. He touches on other cultural aspects of Puerto Rico, like Taíno indigenous culture, religious themes like the 3 Wise Men, and Spanish heritage themes like the literary character of Don Quixote. If you or a loved one is an art aficionado, browse this talented artist's repertoire. He not only sells his original artwork but also prints, tote bags, home décor, and clothing.
From clothing to paintings, to food, jewelry and more, this blog covered original brands of Puerto Rico you can support from afar by ordering online. Each brand has a distinct characteristic that makes it unique to Puerto Rico. Ecliptica is cutting-edge formalwear clothing designed by Boricua women. Sandía is handmade baby clothing also spearheaded by Puerto Rican women. Qo-qí is a local menswear brand with its unique coquí design. Coquí el Original® also focuses on the cute, endemic tree frog offering its design in fine jewelry pieces. Vaca Negra offers locally-made cheeses and other dairy products. Concalma creates numerous bag styles made in the municipality of Utuado. Luca comes from Boricua architectural landscapist's idea to offer curated items to create an all-around lifestyle and vibe. Finally, Obed Gomez is a talented Boricua painter. As you can see, each brand, store, or person mentioned is distinctly tied to Puerto Rico. Another focus of this blog was to mention retailers that have products and ideas distinctly or exclusively theirs.
¡Salud y Exito!
Daniela Barquet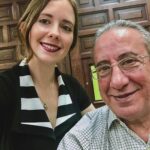 Daniela Barquet is the 4th generation owner of her family's jewelry store located in Old San Juan, Puerto Rico since 1965. The business tradition was started by her great-grandfather, Issac Barquet, in 1920. Daniela graduated from Boston University with a Bachelor's in the History of Art and Architecture and a Minor in Italian Studies. Daniela continues to grow under the mentorship of her father, Natalio Barquet Perez, who is a renowned, certified jeweler in Puerto Rico.