Coquí el Original® offers a selection of beautiful bracelets. From cable bracelets to macramé to beaded designs, our bracelets are made with style and a genuine effort to honor the essence of Puerto Rico. Each heirloom-quality piece is crafted to last lifetimes.
Coquí el Original® Beautiful Bracelet Selections
Discover unforgettable pieces in our bracelet assortment. All our bracelets are distinct in quality and design to complement your style.
Cable Bracelets
The cable bracelets are crafted with a durable, stainless steel band, which pairs well with the .925 sterling silver centerpiece. The coquí bands come in four color options, black, silver, rose, and yellow. The bracelets are adjustable up to 7.5 inches. Cable bracelets stack well with other bracelets. For a more high-end look, the Cable Bracelets are perfect. We have three options for our cable bracelets — the Coqui tree frog, the Puerto Rican flag and the Sun. The Coquí tree frog cable bracelets come with Coquí and clasp crafted in sterling silver .925, while the cable is made of stainless steel. You can adjust it accordingly up to 8 inches. Plus, you have the freedom to pick from a variety of colors, such as rose, yellow, black and white. We also offer the Puerto Rico Flag design that is minted in sterling silver .925  and is finished with red, blue and white enamel. The diamond on the star adds a dash of sophistication to the piece. Choose the Flag/Map Cable of your preference between the black, white and yellow colors. The Sun Cables complete our cable bracelet category. Crafted in sterling silver .925, the suns come with genuine diamonds at their centers. Choose the Sun Cable Bracelet in your preferred color: white, black or yellow. Two popular combinations are combining white with yellow or white with black. You can also pair these gorgeous pieces with our Coquí Cable Bracelets. Be bold with your ideas and 
stack those bracelets
!
Macramé Bracelets
Our macramé bracelets offer versatility at its finest and are adjustable to fit your preferences. If you are looking for a cute, casual look, the macramé bracelets are great for stacking with a watch or other bracelets. We have four designs available:
The Coquí: The famous tree frog is a national symbol in Puerto Rico, appearing in many sculptures and artistic works.
The Taíno Coquí: These designs emulate the petroglyph designs created by the indigenous Puerto Rican community.
The Tinglar: The leatherback sea-turtle, known in Spanish as "el tinglar," is the largest marine turtle in the world and has seven distinct ridges on its soft carapace.
The Sun: Filled with pristine beaches and stunning natural habitats, Puerto Rico is a breathtaking place to have fun under the sun.
All our macramé bracelets are adjustable up to 7.5 inches and include elegant sterling silver beads along the hand-finished macramé cord. We offer the classic black color for every macramé bracelet. If you want a little more color, our Tinglar macramé bracelet is also available with a blue macramé cord.
Bead Bracelets
Elevate your style with our dainty bead bracelets. These pieces are excellent for those with small to medium wrists. For this selection, we have sterling silver and gold bracelets that are all adjustable from 6 to 7 inches. Each piece includes a Coquí tree frog pendant in either sterling silver or gold to match.
Link Charm Bracelets
The last set of bracelets we currently offer are the classic link charm bracelets. We refer to them as "classic" because, unlike slide-in charm bracelets that stack each piece next to each other, charms need to be soldered onto link bracelets. This difference allows each charm on the link bracelet to have breathability from their neighbors. A common process Coquí el Original® clients go through is first purchasing one of our solid sterling silver link charm bracelets featuring just one of our designs: the coquí, the sun with diamonds, the salsa dancers, the leatherback sea-turtle, or the Puerto Rico Map. Afterward, they continue to purchase other of our 
beautiful charms
 to keep adding to their bracelet until they complete it to their liking. Alternatively, you can also purchase some of our link charm bracelets that come with a variety of our designs soldered on already. The most popular one is the Puerto Rico Bracelet featuring the Puerto Rico Map with a diamond over the "i" of Puerto Rico, the Sun with Diamonds, and the matte-finish Coquí. The Nature Bracelet is also a lovely option, featuring the Sun, Coquí, and the Leatherback Sea-Turtle. For dance lovers, we also offer the Salsa Dancers Bracelet, featuring the Puerto Rico Map, Coquí, and Salsa Dancers.
Bangle Bracelets
Are you in need of a simple yet sophisticated stack? Discover our bangle bracelet selection and find the style that calls to you. These luxury bracelets have two main variations — the Coquí and the Taíno Coquí. Our Coquí bangle bracelet is available in silver and yellow gold.
Men's Bracelets
We also create bracelets and other 
jewelry for the men
 in your life. If you're looking for a unique gift for a special occasion like Father's Day, Coquí el Original® offers the Men's Bracelet. Featured on the bracelet is the sterling silver Reversible Coquí, which allows you to sport the bracelet either with the polished-finish coquí side or the matte-finish one depending on your mood. This is also a great bracelet in general for people with wrists on the larger end. To make it an even more special gift, add the Coquí Cufflinks so they can wear a unique set on formal occasions.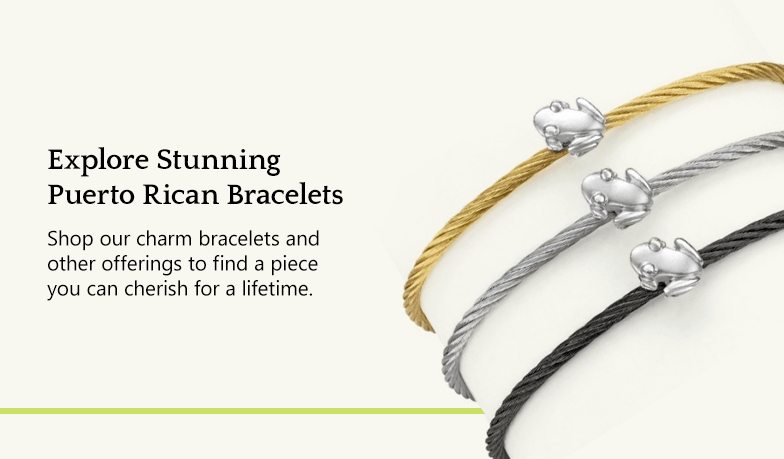 Explore Stunning Puerto Rican Bracelets
Our luxury bracelets come in diverse styles and sizes to fit any aesthetic, and they're all made with premium materials and a genuine passion for Puerto Rican culture. At Coquí el Original®, we have something to cater to every taste in jewelry. Shop our charm bracelets and other offerings to find a piece you can cherish for a lifetime.