Whether visiting Puerto Rico or thinking of a gift for a loved one, Coquí el Original® located at 200 Calle de la Fortaleza, Old San Juan, boasts a beautiful collection of high-end, luxury items inspired by the island's beauty and nature.
Specifically, they have a range of exquisite bracelet designs that can become the perfect, well-thought-out gift that harkens to how amazing Puerto Rico is. Below is a list of bracelets offered by Coquí el Original® you are able to purchase in-store or at coquieloriginal.com with complimentary shipping on all items.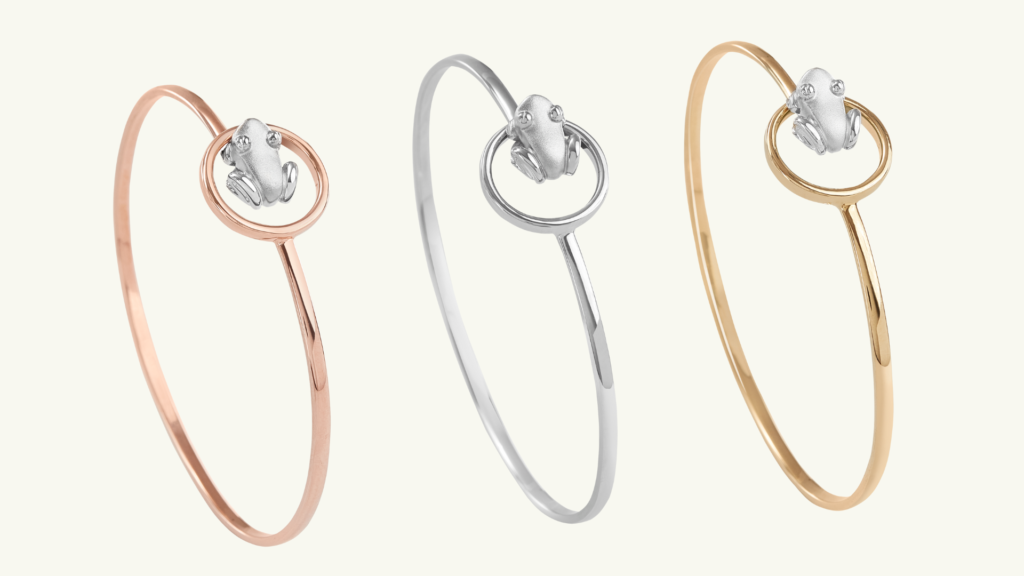 1) Coquí (Tree Frog) Bangle Bracelet
The coquí is a smaller-than-a-penny tree frog endemic to Puerto Rico that every night signs "ko-ki" all over the island. The coquí is one of the most treasured species on the island. Therefore, if you're shopping for a unique and quality item, the Coquí Bangle Bracelet is 7 inches and perfect for smaller to medium-sized wrists. Crafted from solid sterling silver .925, the bracelet comes in 3 colors: white, rose, and yellow. To open and close the piece, the coqui and ring become the clasp of the bracelet. The Coquí design is finished in a matte setting while the rest of the bracelet is polished to provide a gorgeous contrast.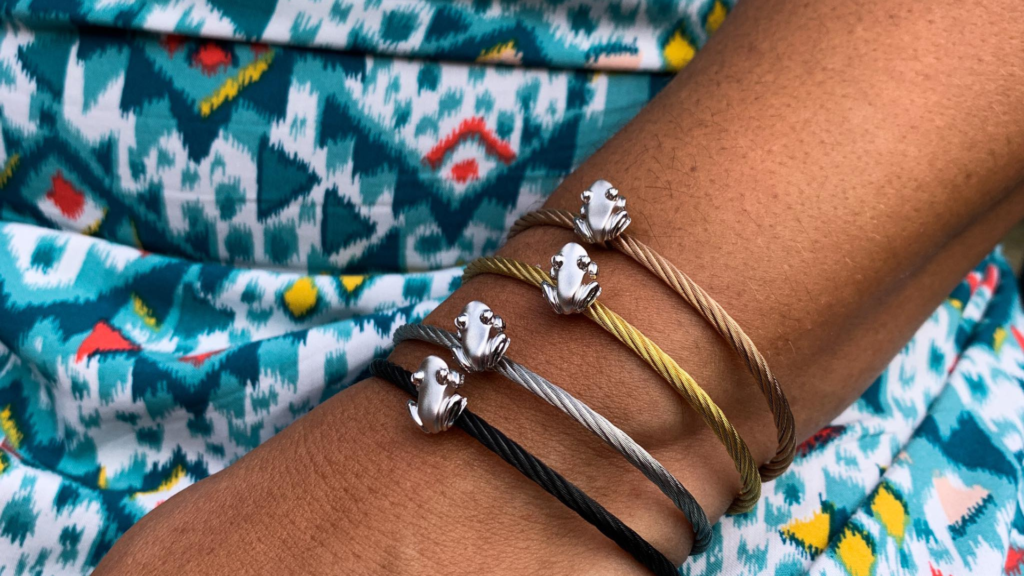 2) Coquí (Tree Frog) Cable Bracelet
Another coquí design that is perfect for someone who is active or outdoors often, this Coqui Bracelet is offered in 4 colors: white, rose, yellow, and black. The bracelet is 7 inches long, but has added links that make it adjustable up to 8 inches. The Coquí Design as well as the lobster clasp and added links are crafted from solid sterling silver .925. The cable is crafted from stainless steel and heated in an acidic solution to create the desired color finish. This item is a beautiful and durable piece best for medium to large wrists. As a note, the Coquí design is always smaller than a penny (much like the coquí in real life).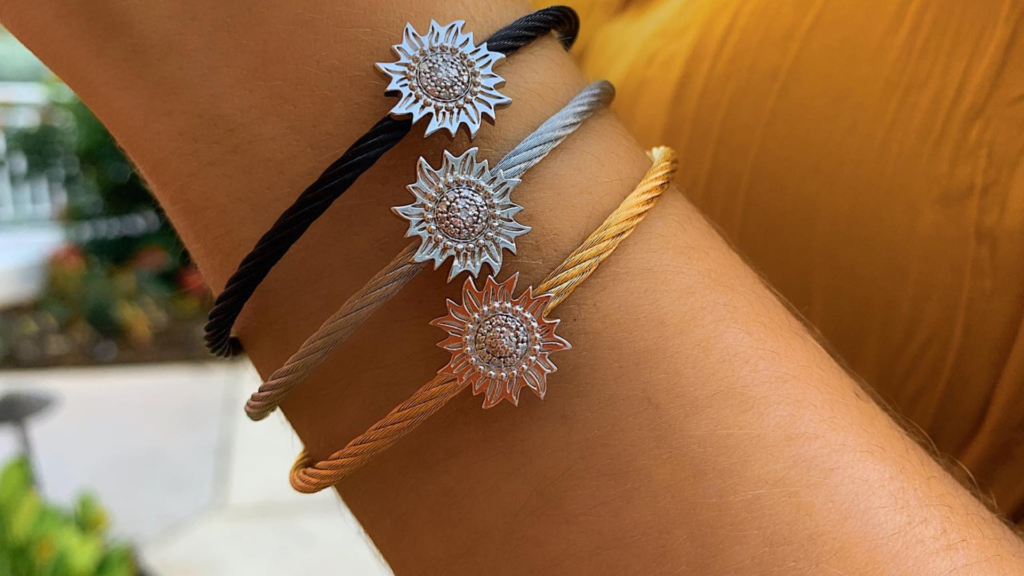 3) Sun Cable Bracelets
While the Sun Design is very universal, it is also a symbol of Puerto Rico's year-long warm, Caribbean weather. The Sun Cable Bracelets are from the same materials as the Coquí Cable: sterling silver and stainless steel. This item, however, comes in 3 colors: yellow, white, and black. The Sun Design, crafted from sterling silver, also features genuine diamonds at the center in a pavé setting. This bracelet is perfect to stack with our Coquí Cable Bracelet. Clients typically combine their preferred colors for both the Sun and Coquí Bracelets. The mixing and matching of colors and designs creates a cute and trendy stacking look for your jewelry.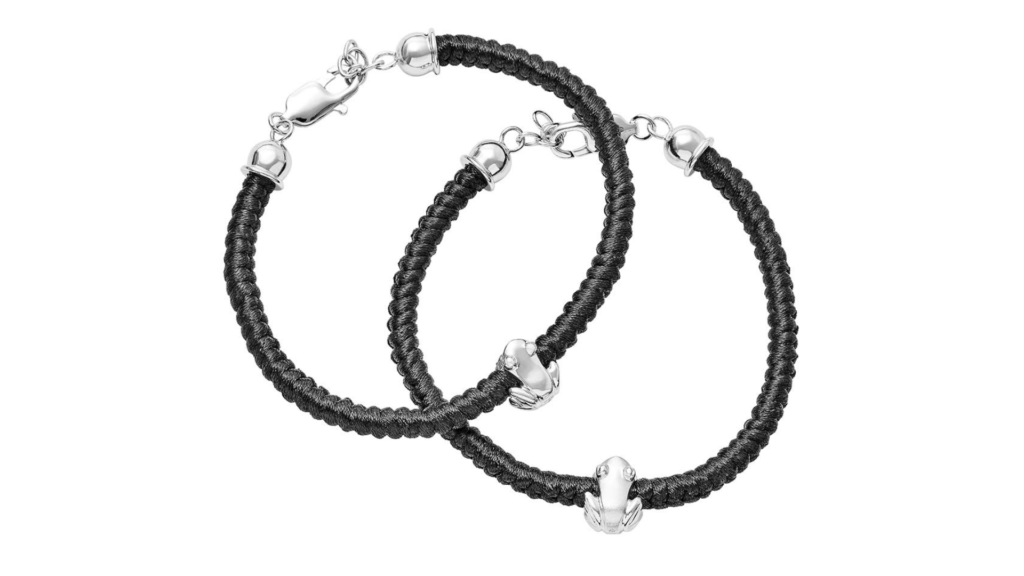 4) Men's Coquí Bracelet
This men's Coquí Bracelet is a great option for large wrists since the added links make it adjustable up to 8.5 inches. The featured Coquí Design is a double-sided sterling silver one, with one side having the tree frog in a matte finish and the other having it in the polished finish. Depending on the day, style, or preference, the wearer can choose to show either the matte or polished Coquí. The band is a black, twisted, and thick macramé that emphasizes the bolder look of the bracelet.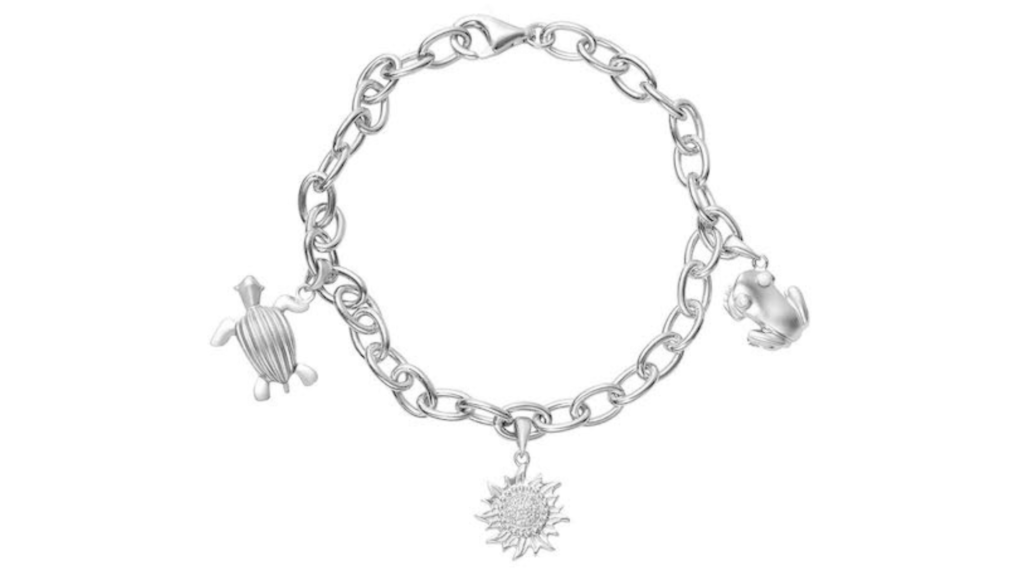 5) Nature Bracelet
This 8-inch, link bracelet features 3 signature designs: the Coquí, Sun with Diamonds in a pavé setting, and the Leatherback Sea-Turtle Pendants. the leatherback sea-turtle is distinctive because it has 7 longitudinal ridges on its soft carapace and becomes the largest marine turtle in the world! While the leatherback turtle is not endemic to Puerto Rico like the coqui, turtles are a beloved species on the island. Puerto Rico also holds a yearly festival for the leatherback (known as "el tinglar" in Spanish) in the municipality of Luquillo located on the North-East side of the island as a way to raise funds for conservation efforts. Therefore, this gorgeous solid sterling silver link bracelet is perfect for nature lovers, as the name entails. Each charm is perfectly spaced on the bracelet to allow them to breathe and shine beautifully without much interruption. As an 8-inch bracelet, the lobster clasp can be adjusted at any of the links, making the design a great option for any sized wrist from small to large. As a note, Coquí el Original® is a proud sponsor of the Puerto Rico Conservation Trust.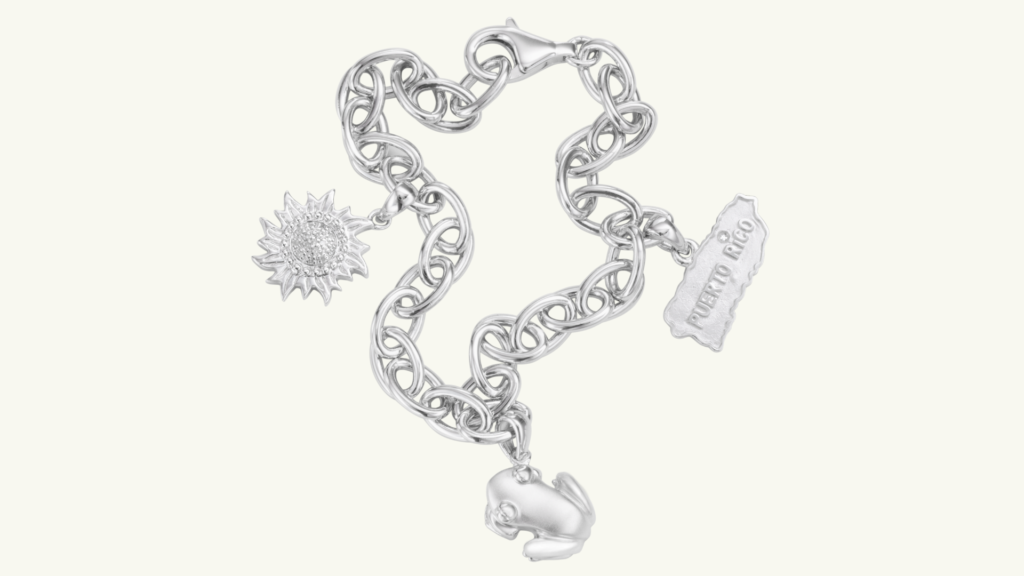 6) Puerto Rico Bracelet
A variation of the previous bracelet described is the Puerto Rico Bracelet. In this item, instead of having the Leatherback Sea-Turtle, the charms featured are the Coquí, Sun, and Puerto Rico Island Map. A delightful detail in the Map Charm is that the "i" of Puerto Rico comes with a genuine diamond as the dot of the vocal. This piece is also crafted from sterling silver .925 and is a perfect gift for someone from Puerto Rico or someone who loves the tropical island.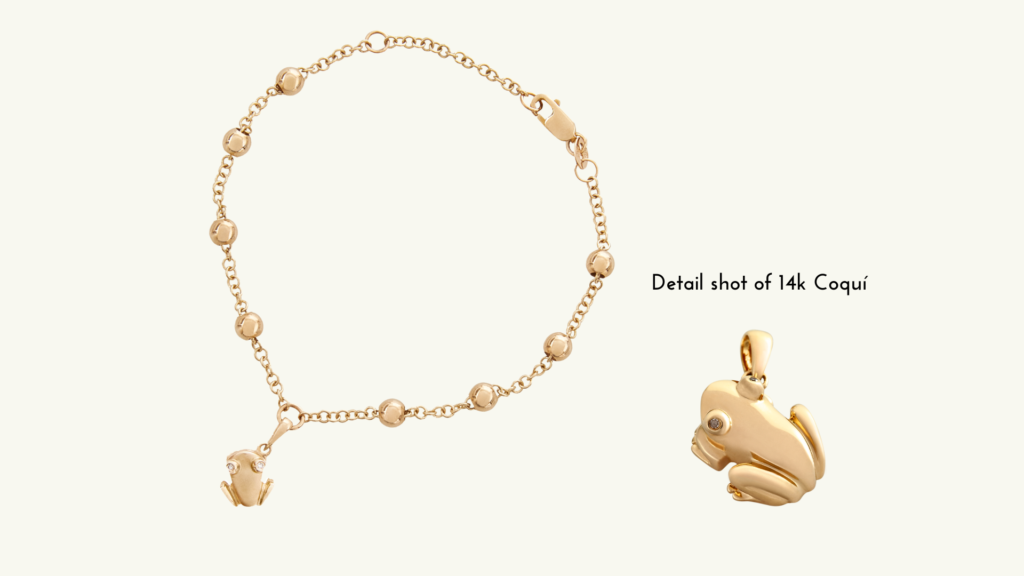 7) Coquí Bead Bracelet in solid 14k gold
The Coquí Bead bracelet crafted in 14k gold is an example of a minimal, delicate, and simple piece. The bracelet is adjustable at 2 lengths with its lobster clasp: at 6 inches and at 7 inches, therefore it is best for petite wrists. The design features the Petite Coquí Pendant in the middle dangling from a central ring. On each side of the Petite Coquí there are 4 small beads that elevate the look of the delicate bracelet. As with all of our solid 14k items, the Coquí Charm is detailed with genuine diamond eyes. Shoppers looking for a high-quality design that elegantly celebrates Puerto Rico will be satisfied with a piece like this.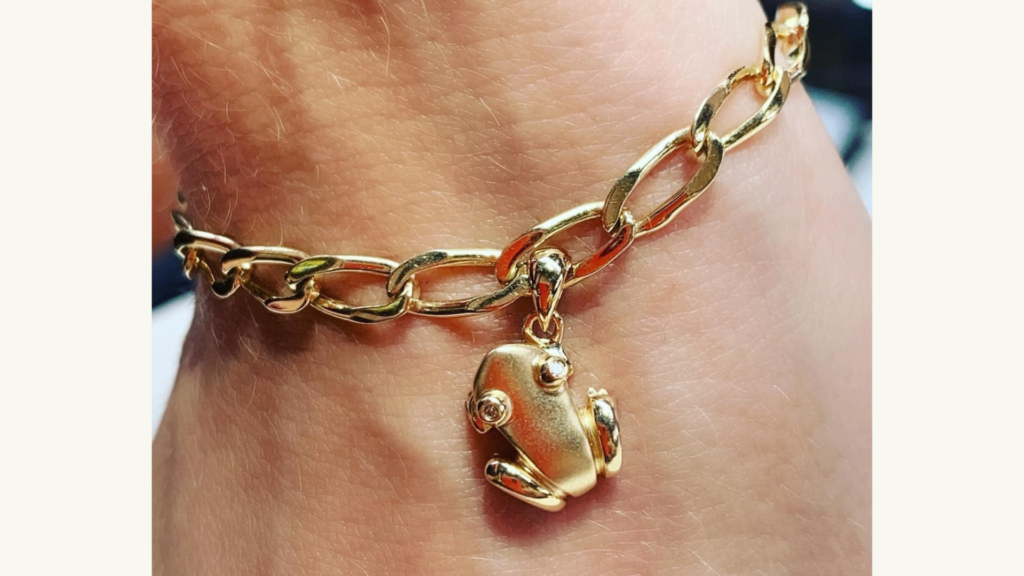 8) Coquí Link Charm Bracelet in solid 14k gold
For a proper elevated and high-end jewelry piece from Puerto Rico, this link bracelet in 14k gold featuring the Mini Coquí Pendant is a superb gift. As mentioned above, the Coquí Pendant comes with genuine diamond eyes when crafted in 14k gold. The bracelet is available in 7.5 and 8 inches long, but, since it is designed with a lobster clasp, it can be adjusted to any length. This piece is a timeless signature, crafted in solid 14k gold, uniquely and exclusively designed, and will always be a loving memory of the "Island of Enchantment," as Puerto Rico is called. What is more enchanting than the coquí's melodies at night that lull you into a relaxing sleep?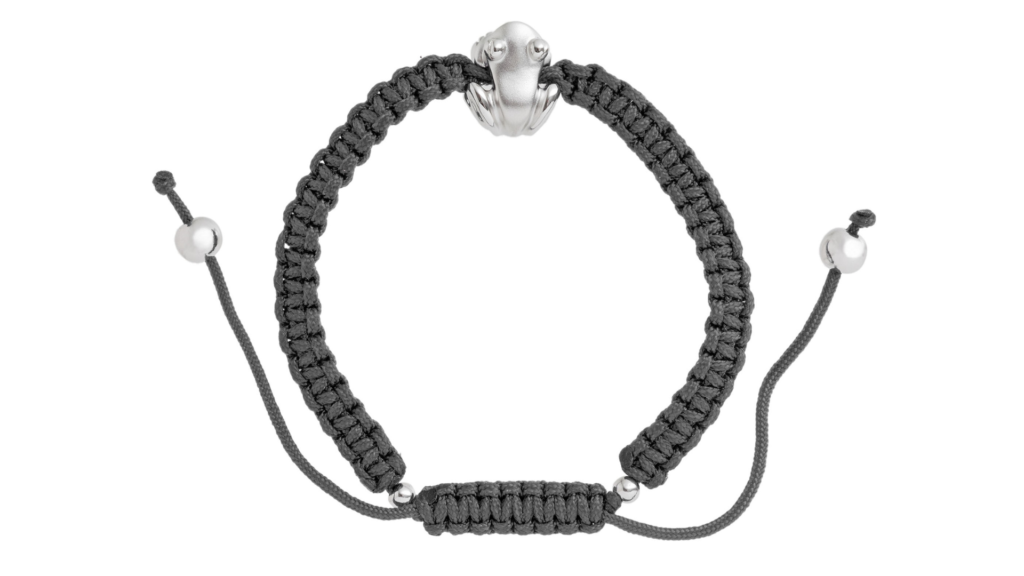 9) Coquí Black Macramé Bracelet
If you're looking for a high-quality gift that is at the same time more casual, the Coquí Macramé Bracelet is a great option. As with most braided macramé bracelet styles, the piece is adjustable by pulling at the bracelet to open then tightening by pulling at the strings. The featured Coquí Design as well as the 4 additional beads are crafted from solid sterling silver .925. The tree frog macramé bracelet is popular for people who like stacking bracelets or pairing it with a watch.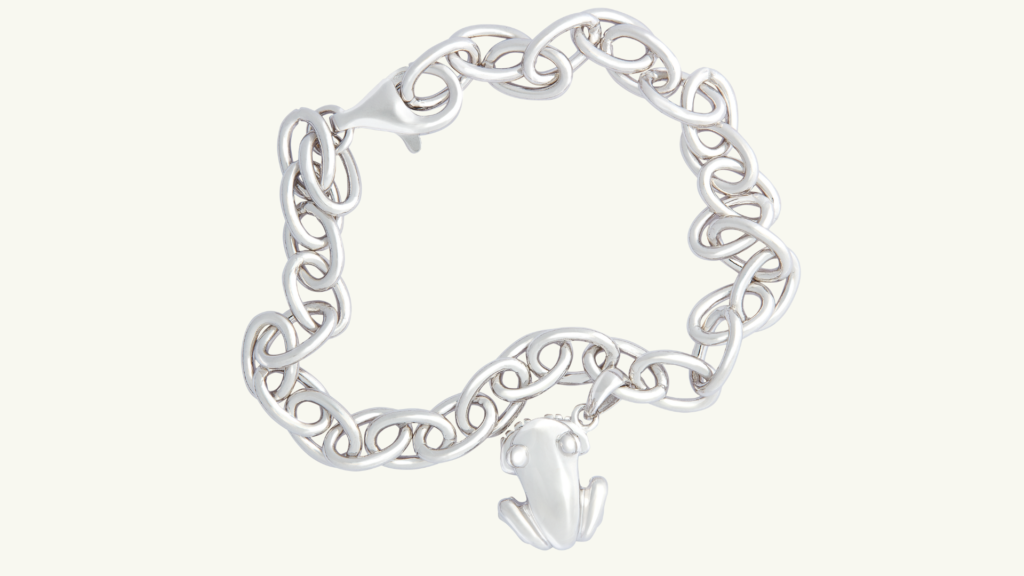 10) Coquí Classic Link Charm Bracelet in sterling silver .925
This gorgeous link charm bracelet features the Coquí Design at the center. The most popular characteristic about this bracelet for clients is that it is a good starting point to create your preferred charm bracelet little by little. Clients often go on to purchase designs from our other collections: the Puerto Rico Map and Flag, Sun with Diamonds, Salsa Dancers, and Leatherback Sea Turtle designs. The process of adding charms is a traditional one, the link is cut, the pendant is slid on, then the link soldered. Classic link bracelets are great for personalizing your charms depending on your memories, experiences, and achievements.
Final Notes
Coquí el Original® is the brand of N. Barquet Joyero, a 4th generation family-owned jewelry business located in Old San Juan. Each item from Coquí el Original®, whether gold or silver, comes engraved with "NB-PR" and with a signature diamond you can find behind the pieces. "NB" stands for Natalio Barquet, the designer, and "PR" for Puerto Rico. Each purchase comes in a branded gift bag and with an informational certificate. Coquí el Original® is also a registered trademark within Puerto Rico and in the US.
¡Salud y Éxito!
Daniela Barquet
Post udpated on 11/27/22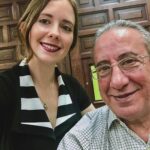 Daniela Barquet is the 4th generation owner of her family's jewelry store located in Old San Juan, Puerto Rico since 1965. The business tradition was started by her great-grandfather, Issac Barquet, in 1920. Daniela graduated from Boston University with a Bachelor's in the History of Art and Architecture and a Minor in Italian Studies. Daniela continues to grow under the mentorship of her father, Natalio Barquet Perez, who is a renowned, certified jeweler in Puerto Rico.