Planning a destination wedding can be tricky. The most important decision can be the venue you choose which will then impact the rest of the planning decisions from logistics to decorations. Below is a list of venues that locals recommend considering in your search as well as other tips for planning a Puerto Rico destination wedding.
Index of what we'll cover below:
Part One: Wedding Venues Recommended by Puerto Rico Locals
Part Two: More Tips for Planning a Puerto Rico Destination Wedding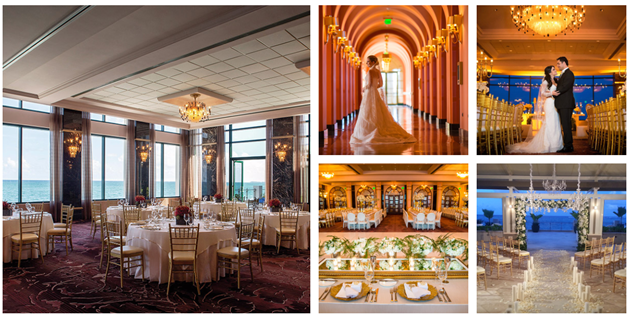 Condado Vanderbilt Hotel
The Vanderbilt Hotel in Condado, San Juan, enjoys an enviable location, known for being a popular beach area for locals and tourists alike. It is walking distance to the Condado Lagoon, pubs, and innovative and delicious Puerto Rican gourmet restaurants. For those who like to explore, it is also five miles from the Spanish castles in Old San Juan. Therefore, The Vanderbilt is one of the top-tier venues to hold your wedding in Puerto Rico.
Guests can choose to stay at the hotel or choose from numerous options offered all round Condado, from boutique hotels to cute Airbnbs. The venue offers a reception, dinner, and beverage menu. They also offer a farewell brunch the next day if interested. Visit their webpage and fill out their contact form to get prices on wedding venues and catering packages.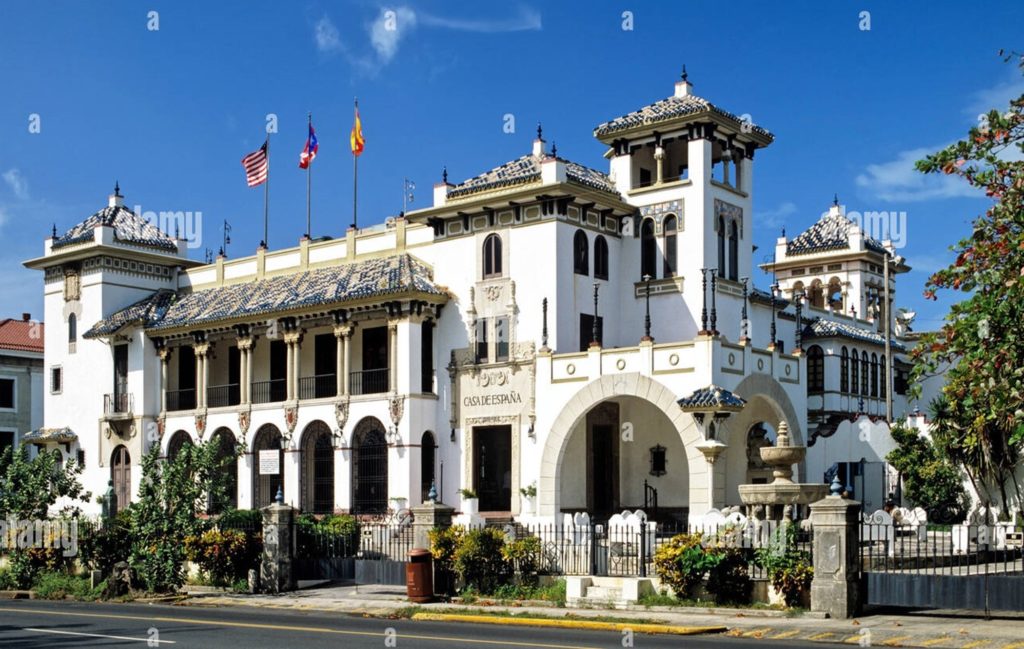 Casa de España
Located at the entrance to Old San Juan, this beautiful building built in 1914 was used as a multi-purpose space by Spanish residents dedicated to culture, fraternizing, and recreation. The Casa de España's architecture is of a predominantly Andalusian style in which its multiple towers, viewpoints, tiles, polychrome tiles, arches, lanterns and its large interior patio stand out. It is listed as a historic building in Puerto Rico and the United States.
It has various rooms, such as the splendid Hall of Mirrors, the Library Hall, an Exhibition Hall, the Andalusian Patio, and the terraces/viewpoints on the roof; as well as other rooms dedicated to the Asturian Center, the Casa Balear, the Casa de España Restaurant, the Andalusian dance school of maestro Antonio Santaella and the Marqués de la Esperanza room. The Casa de España has a significant collection of paintings, accumulated for over a century.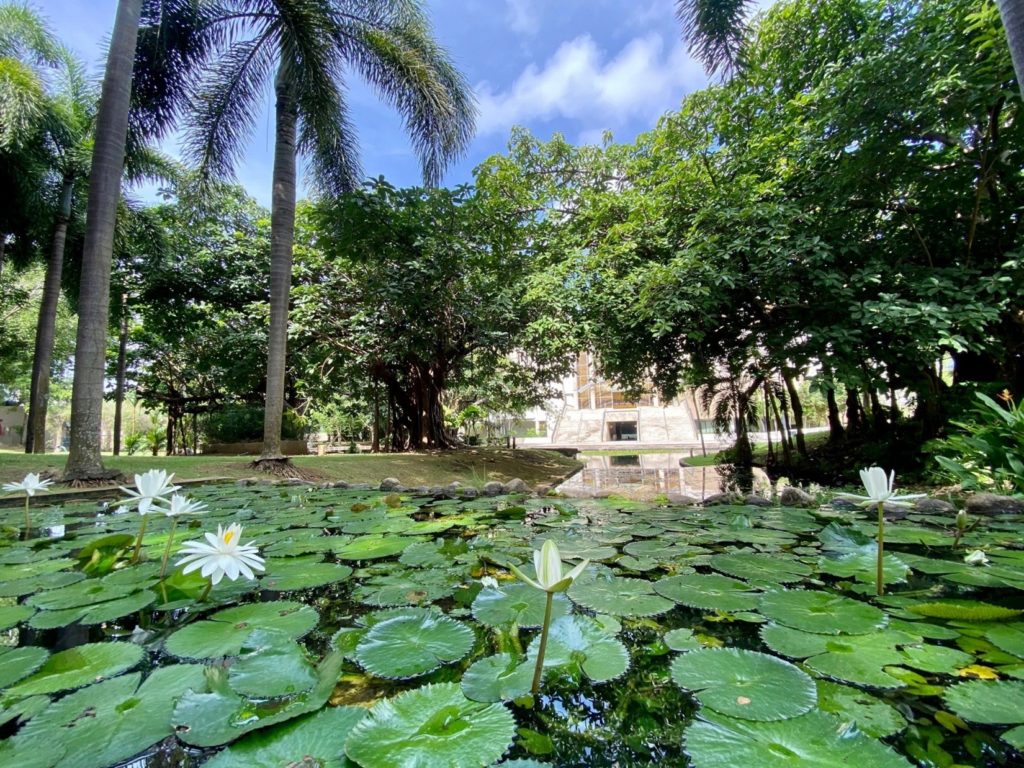 Museo de Arte de Puerto Rico
Puerto Rico's Museum of Art is located in Santurce, which historically has been the epicenter of art on the island. Santurce is right next to areas like Condado, Miramar, and Old San Juan where guests can find a variety of accommodations. The museum offers a Ballroom along with the Botanical and Sculptural Garden as the wedding venue that can hold up to 400 guests.
Get in contact with their Special Events team to inquire and receive prices and availability information.
Even for a "Love Story" photoshoot session, the garden is idyllic. It holds 365 trees with a variety of 26 species and in total over 100,000 plants and flowers many native to Puerto Rico. The garden is divided into different types of forests as you walk along. Sculptures by different artists are integrated along its paths. There are also lagoons, cascades, and a natural amphitheater where spectacles are held.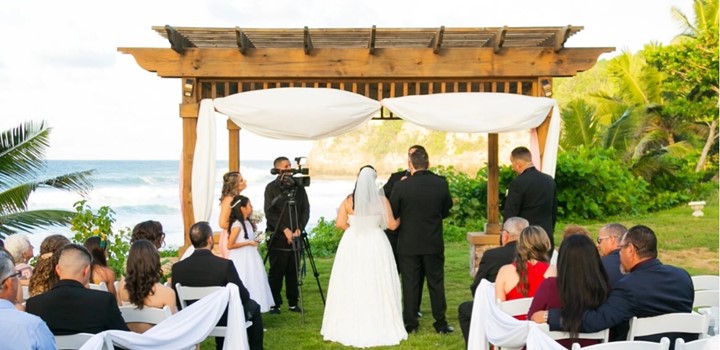 El Guajataca Hotel
Located in Quebradillas in the Northwest area of the island and less than a 2-hour drive from San Juan, the Guajataca Hotel has beautiful ocean-front wedding celebration area and a newly renovated dinner and reception ballroom that accommodates up to 250 guests.
If you envisioned your wedding being a Caribbean dream, this location is perfect and, as a hotel, guests have lodging availability.

Hyatt Regency Grand Resort
This hotel is located in Río Grande, which is less than an hour drive from San Juan. What is particularly amazing about this location is that the hotel is on the peninsula of the municipality of Río Grande, which creates this secluded haven for everything resort related. Apart from its location, the Hyatt offers in-house services for all your wedding needs. This is particularly helpful since it facilitates logistics and coordination for food, music, decorations, and more.
Your guests can also enjoy the hotel's many amenities the days before and after the wedding: pools, beach area, restaurants, spa, and golf course. The best perk is Río Grande is next to Puerto Rico's rainforest, El Yunque. As a pre- or post-wedding activity for those guests that like to be adventurous, a hike tour in El Yunque is a must.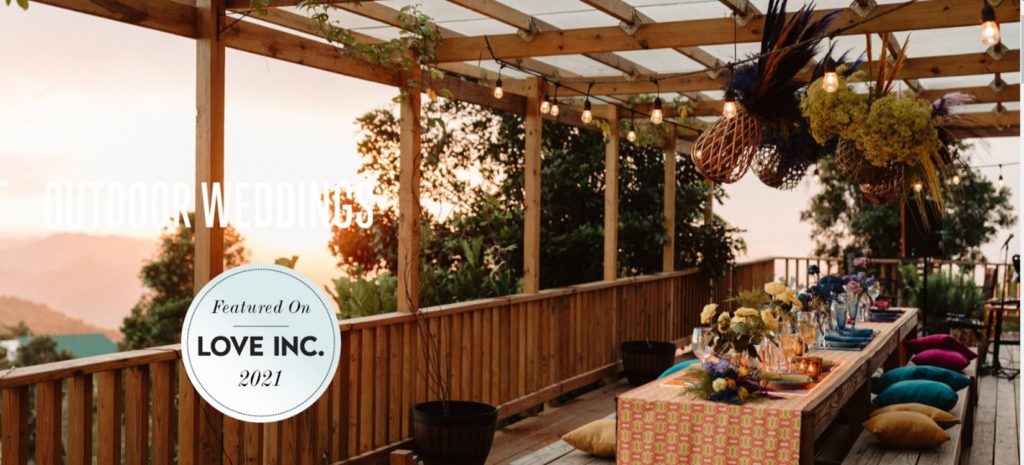 El Pretexto
Described as a culinary farm and lodge, El Pretexto is located in the mountainous municipality of Cayey. If you're envisioning an intimate, cozy, yet gorgeous wedding with exquisite views of Puerto Rico's central mountain range, this is the spot. Here are some of the details their webpage lists:
CEREMONY VENUE FOR THREE (3) HOURS
1-NIGHT STAY FOR NEWLYWEDS + BREAKFAST IN THE MORNING
HORS D'OEURVES FOR FOURHOMEMADE DINNER FOR FOUR
WEDDING CAKE FOR FOUR
WAITER SERVICE (1)
TWO (2) BOTTLES OF WINE
ONE (1) BOTTLE OF SPARKLING WINE FOR TOAST
ONE TABLE FLOWER ARRANGEMENTS BY STEM EVENTS
BOUQUET + BOUTONNIÈRE BY STE EVENTSM
BRIDE HAIR & MAKEUP BY CHERYL DÍAZ
WEDDING PHOTOS BY HAROLD CAMILO OR PHOSPHILLIC
WEDDING OFFICIAN"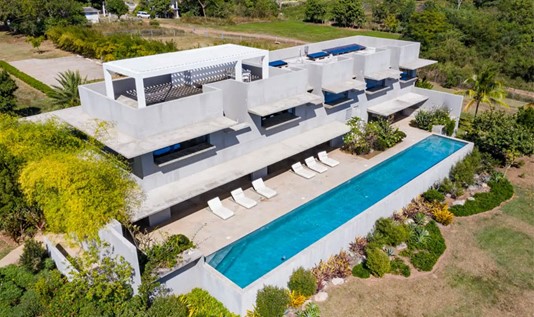 Encantada Villa
This luxury villa is located in our island municipality of Vieques, which makes it one of the more logistically complicated locations to celebrate your wedding. But if done so well, it can be spectacular! The villa itself can hold up to 10 people with 5 bedrooms, but Vieques is a small beach town, meaning your guests will be able to find many other types of accommodations close to the villa. The villa is a 5-acre beachfront paradise that, with the right event planner and decorator, can get that massive frontal lawn ready for the outdoor wedding of your dreams. As mentioned above, the major detail is that Vieques is an island off mainland Puerto Rico. Guests can choose between a flight or a ferry ride to get to it. But it is totally worth it! The beaches are unreal, crystal and light blue with white, soft sand. Go to their Instagram and check-out the "Weddings" story highlight on their profile to help you envision your celebration.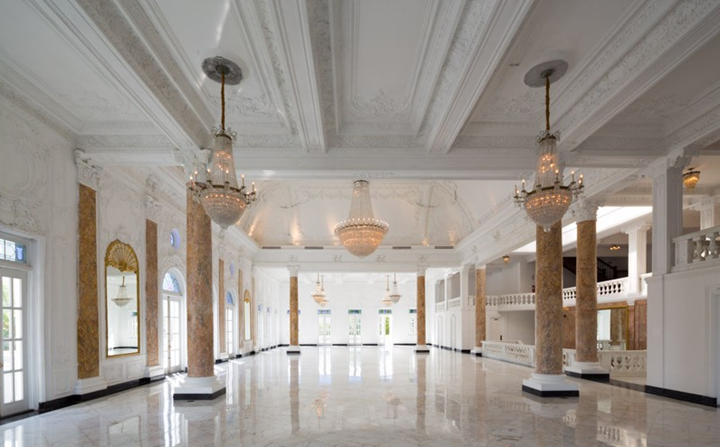 Antiguo Casino de Puerto Rico
If antique and old glamour is your style, take a look at this beautiful ballroom with magnificent chandeliers and massive, decorative columns. Inaugurated in 1917 as a social club for entrepreneurs, throughout history the building has served multiple purposes from military to political and even as a cultural center and school for the arts. The Antiguo Casino is located at the entrance of Old San Juan and right in front of the beautiful Spanish fortress, El Castillo San Cristóbal. The venue also offers services for the wedding like customized menus and cocktails. They do have special requirements on decorations, music, and audiovisuals to ensure the space is not unintentionally damaged. After your wedding celebration you can visit one of the many bars in Old San Juan to continue the celebration with friends and family.
Additional Details to Consider for a Destination Wedding
Below are some things to consider when planning a destination wedding and details you'll want to keep in mind when choosing the right venue.
Services the venue offers for events
Accommodation at the site of the venue or nearby lodging
Will you arrange shuttle buses if necessary or will guests arrange how they will arrive? (i.e., uber or driving)
Venue decorations
Wedding Menu
Band/ dj/ music
Wedding cake
Bridesmaids' and groomsmen's' gifts
Guest party favors
For all these details (and more unmentioned) a wedding planner is recommended. They can reach out to agencies, venues, bakers, etc. and reserve what you'll want and need for your wedding. But without further ado, these are some of the best venues Puerto Rico has to offer for your wedding.

Honoring Your Wedding Entourage
As an addendum to the blog, many times we might overlook those friends and family that go above and beyond with their time, money, and more to ensure you have a successful and fun wedding day! They are with you since the beginning: engagement party, bachelor and bachelorette shenanigans, rehearsal dinner, and of course the big day. If you're looking for a nice gift inspired by Puerto Rico, Coquí el Original ® is just the place. This small jewelry business located in Old San Juan is perfect to shop for cute items in solid 14k gold and sterling silver .925.
Salud y Éxito
Daniela Barquet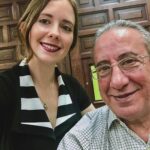 Daniela Barquet is the 4th generation owner of her family's jewelry store located in Old San Juan, Puerto Rico since 1965. The business tradition was started by her great-grandfather, Issac Barquet, in 1920. Daniela graduated from Boston University with a Bachelor's in the History of Art and Architecture and a Minor in Italian Studies. Daniela continues to grow under the mentorship of her father, Natalio Barquet Perez, who is a renowned, certified jeweler in Puerto Rico.