When giving a gift to a loved one or picking out a souvenir to remind you of a special trip to Puerto Rico, you want to know that the jewelry you select will last for generations. At Coquí el Original®, we make all our pieces using the highest quality materials. With high-end jewelry from Coquí el Original®, you can share your love of Puerto Rico and complement any outfit with elegant style.
Choose from jewelry crafted using solid 14k gold or solid sterling silver .925, and pick from matte or high-polish finishes depending on your preference. All of our products come in both silver and gold options. They also come engraved "NB-PR" (for Natalio Barquet and Puerto Rico) and contain our Signature Diamond to make them even more special. We don't use plating or hollow pieces, and every product comes wrapped in nice packaging.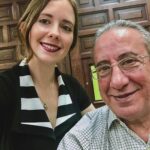 Daniela Barquet is the 4th generation owner of her family's jewelry store located in Old San Juan, Puerto Rico since 1965. The business tradition was started by her great-grandfather, Issac Barquet, in 1920. Daniela graduated from Boston University with a Bachelor's in the History of Art and Architecture and a Minor in Italian Studies. Daniela continues to grow under the mentorship of her father, Natalio Barquet Perez, who is a renowned, certified jeweler in Puerto Rico.