Old San Juan Businesses that are 50+ Years Old
El Batey Tavern
This Old San Juan Dive Bar is the oldest in the historic city. Open since the 1960s, El Batey is a gem for both locals and tourists precisely because it is the only remaining bar that is over 55 years old. Giving credit where credit is deserved, they have been a popular bar for so many years because they serve a variety of drinks at great prices. Today, they divide their selection of drinks between whiskey, scotch, rums, beer, and wine. They have great combos like "The House Couple." For $5.00, you get on of the most popular beers on the island, Medalla Light, with a shot of Puerto Rican aged rum. As a local, I can attest to how popular it is for Boricuas to get a Medalla + rum shot! Additionally, they have signature drinks like "La Guagua Voladora" that translates to "The Flying Bus." "Guagua" is a colloquial term for "bus" in Puerto Rico and the Dominican Republic. Mixing rum, bitters, lime, and aperol, "La Guagua Voladora" seems like a fun drink to try!
Beyond their selection of beers and liquors, El Batey is known for having been frequented by various public figures. One of the most notable figures was novelist and journalist Hunter S. Thompson, writer of The Rum Diary. The novel's plot, in a nutshell, is about a New York writer who moves to San Juan, Puerto Rico to work for a newspaper company, very much a reflection of Thompsons own life at the time. While living in Puerto Rico, he became part of a thriving journalistic culture in Old San Juan. While also a fun fact, yet lesser known, the Rolling Stones loved making pit stops at El Batey Tavern when visiting Puerto Rico. El Batey's jukebox also reflects music from these heydays – Rolling Stones, Frank Sinatra, Led Zepellin, and more! After your stop at El Batey located al Calle del Cristo, walk less than 5 minutes to Calle de San Sebastián and enjoy some salsa dancing at La Factoría Bar.
Puerto Rico Drug
You may be wondering, why would I make a stop at a pharmacy? Well, Puerto Rico Drug has an incredible history that dates back to 1850! To give justice to its history, here is a translated article published by UPR Diálogo, from the best historian in Old San Juan, Carmen Alicia Morales:
"The Puerto Rico Drug Pharmacy is one of the oldest on the Island. Located in front of the Plaza de Armas on the corner of San Francisco and Cruz de Santa Bárbara streets in Old San Juan, it has helped to forge on its walls something more than formulas and medicines. It also served as an important space for social and political gatherings in the capital.
This space began its history as the Botica de Tomás Babel in 1850. Babel was a pharmacist who worked as rector of the Marine Botanical Gardens (next to the Presidio of Puerto Rico established in 1837).
The pharmacy stood out for its well-known intellectual gatherings convened in the neighborhood cookbook. It was there that Manuel Elzaburu Vizcarrondo and Alejandro Tapia y Rivera (neighbors of Calle de la Cruz) conceived the foundation of the Ateneo de Puerto Rico in 1865. It was there that the first echoes were heard that laid the foundations of the Liberal Reformist Party (1870 ), where figures of the stature of Román Baldorioty de Castro, Luis Padial Vizcarrondo and Manuel Corchado Juarbe stood out…"
As investigated and written by Alicia, over the years the pharmacy was sold several times and underwent many changes, depending on the owner of the time. She writes that by 1950
"Amador González obtains it and modernizes it commercially with a new drugstore concept that sells women's accessories, household and cleaning products, office products, basic cooking necessities, suitcases, among others.
In 1966 his heirs bought Puerto Rico Drug and in 1970 began the administration that manages it to the present with Mr. Aníbal Amador.
In the 1990s, Don Aníbal bought the adjoining structure on San Francisco Street, expanded it and remodeled it, keeping the recipe book in the back."
To summarize, what makes this drug store so cool is precisely the mashup concept Amador González created! It's like a mini department store with home goods, makeup, clothing, jewelry, perfumes, decorations, and many other sections you can explore.
Barquet Joyero
Barquet Joyero is one of the few jewelry stores that has been located in Old San Juan for over 50 years. In 1965, Natalio Barquet Senior established the first Barquet Joyero store in 201 Calle de la Fortaleza. But the family jewelry business tradition spans back even further. Isaac Barquet opened the first jewelry store in Camagüey, Cuba in 1920. After the Cuban Revolution, his son, Natalio Barquet Senior, was exiled and relocated to Puerto Rico with his family. After a couple of years on the island, he was able to establish the first Barquet store in 1965, as mentioned above where, over the years, his children, Martha, Natalio Junior, Eduardo, and Arturo also became involved. For years, they dedicated their business to the selling of very high-end designer jewelry such as Piaget, Chopard, Corum, Mikimoto, Piero Milano, Garavelli, Nanis, among other internationally known brands.
However, in 2009 Natalio Barquet reinvented the business model and created the Coquí el Original® jewelry line and brand dedicated to designs inspired by Puerto Rico's nature and culture. The most popular items, of course, are the ones in the Coquí Collection. The coquí tree frog (smaller than a penny) is a beloved endemic species in Puerto Rico. At night, they literally sing "ko-kee" serenading Boricuas into a peaceful sleep. In addition to the Coquí Collection, Natalio designed the Leatherback Sea Turtle, Puerto Rico Map and Flag, Sun, and Salsa Dancers Collections. The Barquet Joyero brand offers the items in solid 14k gold and solid sterling silver .925. Approximately 4 months ago, they relocated from 201 Calle de la Fortaleza to 200 Calle de la Fortaleza just across the street. While it was a bitter-sweet move from a rich history at 201 since 1965, the family tradition of fine jewelry lives on in our dear Old San Juan.
Catalá
If you're a lover of high-end jewelry, Catalá is a must. As translated from their webpage:
"Catalá Jewelry is the oldest and most prestigious jewelry store in Old San Juan. It was founded in 1930 by Jaime Catalá, a native of Yauco. Located in the heart of the capital, it is part of the San Juan history. Eighty-nine years have passed since the founding of the Catalá Jewelry, in Old San Juan, and today three sisters fill their father's space. Catalá Joyeros has been a family business for three generations, offering quality jewelry, a modern fine jewelry and watch repair shop and continuing the tradition of service, honesty and professionalism."
As an update to their About page, Constantino Catalá, grandson of Jaime, is currently the head of the family business tradition. Stop by their beautiful jewelry store that is located next to the quaint Plaza de Armas.
La Mallorquina
Founded in 1848, La Mallorquina is the oldest restaurant in Puerto Rico and one of the oldest in the Caribbean. Not only do they serve authentic Puerto Rican and Spanish food, the space is also extraordinary since furniture and decorations date back to the 19th century. Noteworthy are two wonderful, 19th century mirrors and 3 marvelous wall-paintings that represent the culture of the time. The kitchen is open to the public so you can appreciate chefs doing their work. The original owner, Antonio Vidal Llinás, came from Mallorca, Spain, hence why it is named La Mallorquina.
Almacenes Fernandez
Almacenes Fernandez is a men's clothing store that has been in Old San Juan since 1917! Located at 262 Calle de San Francisco, they specialize in tropical-style and sportswear clothing. If you're looking for a classic Caribbean Guayabera, this store is the perfect place to purchase an authentic piece. If you're unfamiliar, Guayaberas are most often a white-colored, men's summer shirt that can be used for formal occasions if the dress code permits it. Beyond shirts there are shoes, hats, pants and accessories. The sports section is great as well offering a range of popular team kits.
Final Notes
While these are some out of various other traditional stores you can visit in Old San Juan, there are numerous other clothing, jewelry, souvenir, home goods, shops and brands that are also great to visit even if they aren't as old! Wander through the historic city and fancy yourself to your heart's desire.
¡Salud y Éxito!
Daniela Barquet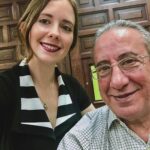 Daniela Barquet is the 4th generation owner of her family's jewelry store located in Old San Juan, Puerto Rico since 1965. The business tradition was started by her great-grandfather, Issac Barquet, in 1920. Daniela graduated from Boston University with a Bachelor's in the History of Art and Architecture and a Minor in Italian Studies. Daniela continues to grow under the mentorship of her father, Natalio Barquet Perez, who is a renowned, certified jeweler in Puerto Rico.